Courtesy Visit of Ambassador Dr. Nicholas O'Brien to Thuringia on 1 June 2022
News
21 July 2022
The Landtag of Thuringia displaying the flag of Ireland on 1 June 2022
Official Courtesy visit of Ambassador Dr. Nicholas O'Brien the Free State of Thuringia on 1 June 2022
Ambassador Dr. Nicholas O'Brien paid an official visit to Erfurt, the capital of the German state of Thuringia, on 1 June 2022. There he met with high-ranking representatives of the state for a constructive exchange on the relationship between Ireland and Thuringia.
Ambassador O'Brien met with the President of the Thuringian Parliament, Birgit Keller, to discuss areas of mutual interest and how the relations between Ireland and Thuringia might be further developed and strengthened. Other areas discussed included broader European issues, e.g. foreign investment, education and skilled & flexible workforces.
Following this exchange, Ambassador O'Brien met with Minister-President Bodo Ramelow. Both underlined the potential that exists for increased cooperation between Ireland and Thuringia in various sectors, in particular in the high tech and automotive industries.
Minister-President Ramelow and Ambassador O'Brien rounded off the cordial meeting by exchanging gifts and posing together for pictures.
-------------------------------------------------------------------------------------------
Offizieller Antrittsbesuch von Dr. Nicholas O'Brien im Freistaat Thüringen am 1. Juni 2022

Botschafter Dr. Nicholas O'Brien stattete am 1. Juni 2022 der Thüringer Landeshauptstadt Erfurt einen offiziellen Antrittsbesuch ab. Dort traf er sich mit hochrangigen Vertreter*innen des Landes zu einem konstruktiven Austausch über die Beziehungen zwischen Irland und Thüringen.
In einem Gespräch mit der Präsidentin des Thüringer Landtags, Birgit Keller, zusammen, wurde erörtert, wie die Beziehungen zwischen Irland und Thüringen weiter ausgebaut und gestärkt werden könnten. Zu den weiteren Gesprächsthemen gehörten allgemeinere europäische Fragen, z. B. ausländische Investitionen, Bildung sowie qualifizierte und flexible Arbeitskräfte.
Im Anschluss an diesen Austausch traf Botschafter O'Brien mit Ministerpräsident Bodo Ramelow zusammen. Beide betonten das Potenzial für eine verstärkte Zusammenarbeit zwischen Irland und Thüringen in verschiedenen Sektoren, insbesondere in der Hochtechnologie- und Automobilindustrie.
Ministerpräsident Ramelow und Botschafter O'Brien beendeten das herzliche Treffen mit dem Austausch von Geschenken und einem gemeinsamen Foto.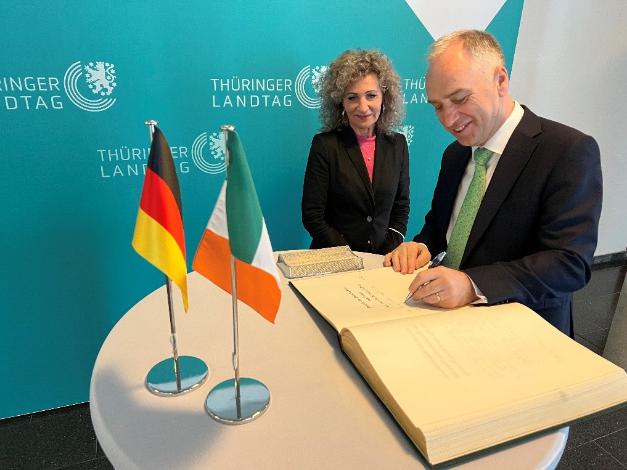 ‌Ambassador O'Brien signing the official guest book of the Thuringian Landtag, while President of the Landtag Birgit Keller looks on.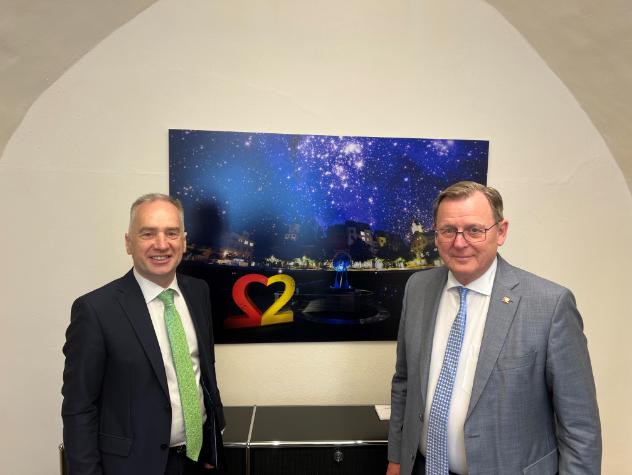 ‌Ambassador O'Brien meeting with the Minister-President of Thuringia, Bodo Ramelow