Courtesy Visit of Ambassador Dr. Nicholas O'Brien to Saxony-Anhalt on 7 July 2022
News
21 July 2022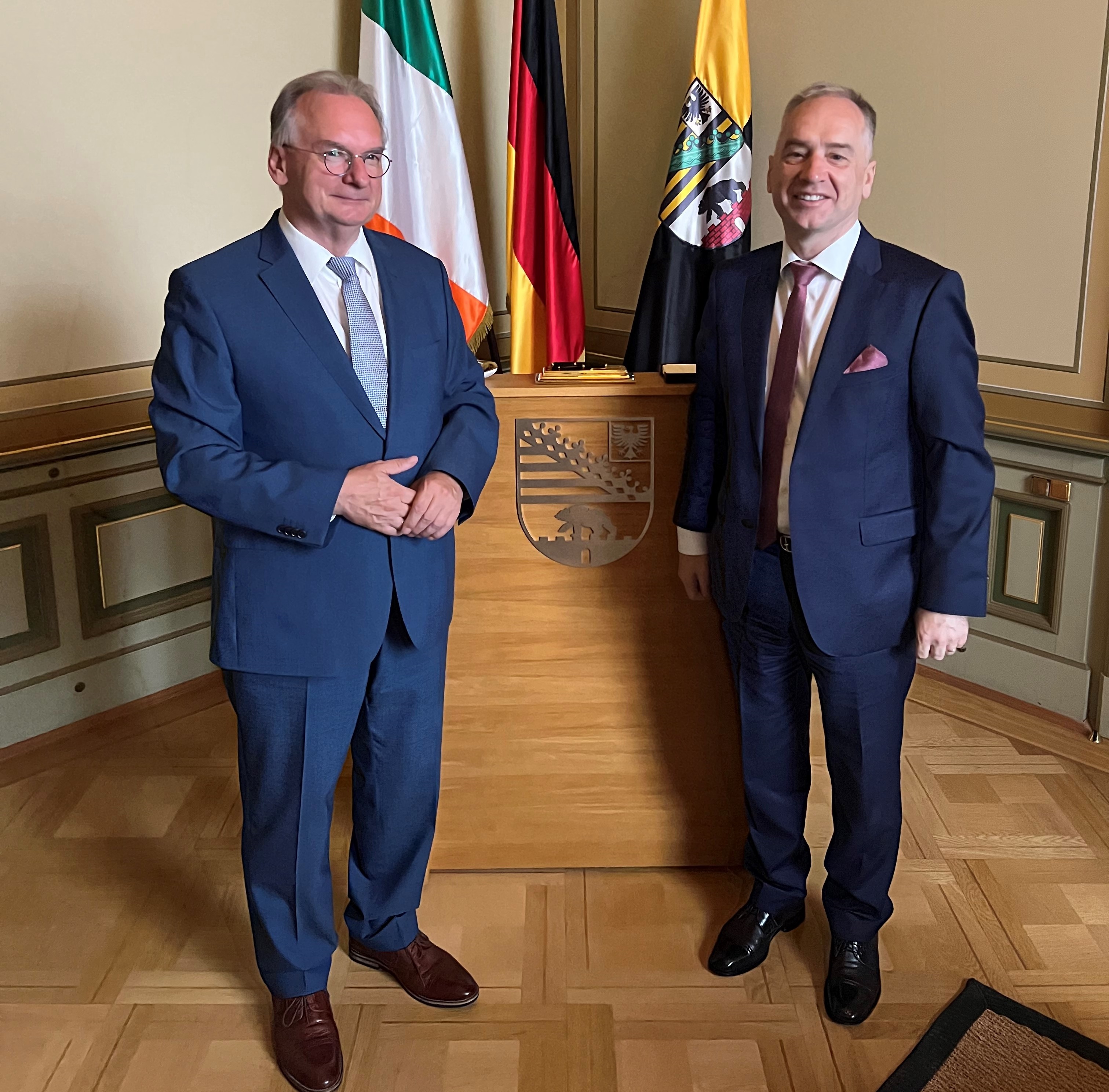 Minister-President Dr. Reiner Haseloff with Ambassador Dr. Nicholas O'Brien in the state chancellery in Magdeburg on 7 July 2022
Official Courtesy Visit of Ambassador Dr. Nicholas O'Brien to Saxony-Anhalt on 7 July 2022
As part of the Embassy's continued outreach to the German Bundesländer, Ambassador Dr. Nicholas O'Brien paid a courtesy visit to Saxony-Anhalt on 7 July 2022.
In Magdeburg, the capital of Saxony-Anhalt, Dr. O'Brien received a warm welcome from Minister-President Dr. Reiner Haseloff and Dr. Henrike Franz, Head of Department for International Cooperation, EU Affairs, Protocol and Media Policy at the state chancellery.
A key focus of their discussions was the strengthening and further development of Ireland - Saxony-Anhalt bilateral links.
Of further mutual interest were Brexit and the respective responses to it, energy issues, high tech cooperation and broader questions relating to Europea.
Minister President-Haseloff and Ambassador O'Brien welcomed the announcement by Intel, which operates extensive facilities in Ireland, that it will invest in a new large scale facility in a site near Magdeburg and which bodes well for more extensive Ireland Sachsen-Anhalt links.
The meeting was followed by a small ceremony where token gifts were exchanged and Ambassador O'Brien was invited to sign the official visitors' book of the state chancellery.
---------------------------------------------------------------------------------------------------------
Offizieller Antrittsbesuch von Botschafter Dr. Nicholas O'Brien in Sachsen-Anhalt am 7. Juli 2022
Im Rahmen des kontinuierlichen Austausches der Botschaft mit den deutschen Bundesländern stattete Botschafter Dr. Nicholas O'Brien am 7. Juli 2022 Sachsen-Anhalt einen Antrittsbesuch ab.
In Magdeburg, der Landeshauptstadt von Sachsen-Anhalt, wurde Dr. O'Brien von Ministerpräsident Dr. Reiner Haseloff und Dr. Henrike Franz, Leiterin des Referats für Internationale Zusammenarbeit, EU-Angelegenheiten, Protokoll und Medienpolitik in der Staatskanzlei, herzlich empfangen.
Ein Schwerpunkt der Gespräche war die Stärkung und Weiterentwicklung der bilateralen Beziehungen zwischen Irland und Sachsen-Anhalt.
Weitere Themen von beiderseitigem Interesse waren der Brexit und die jeweiligen Reaktionen darauf. Hinzu kamen Energiefragen, die Zusammenarbeit im Bereich der Hochtechnologie und allgemeine Fragen im Zusammenhang mit Europa.
Ministerpräsident Haseloff und Botschafter O'Brien begrüßten die Ankündigung von Intel, das umfangreiche Anlagen in Irland betreibt, in eine neue Großanlage in der Nähe von Magdeburg zu investieren, was ein gutes Zeichen für den Ausbau der Beziehungen zwischen Irland und Sachsen-Anhalt ist.
Im Anschluss an das Treffen fand eine kleine Zeremonie statt, bei der Geschenke ausgetauscht wurden und Botschafter O'Brien eingeladen wurde, sich in das offizielle Gästebuch der Staatskanzlei einzutragen.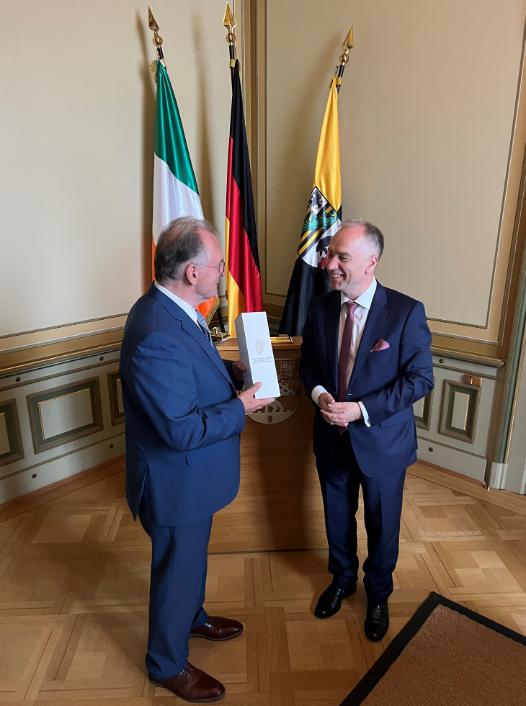 ‌Ambassador O'Brien gifting Minister-President Haseloff with a bottle of Irish whiskey
‌