Cultúr Salon - On Club Culture. 01 September
News
15 August 2022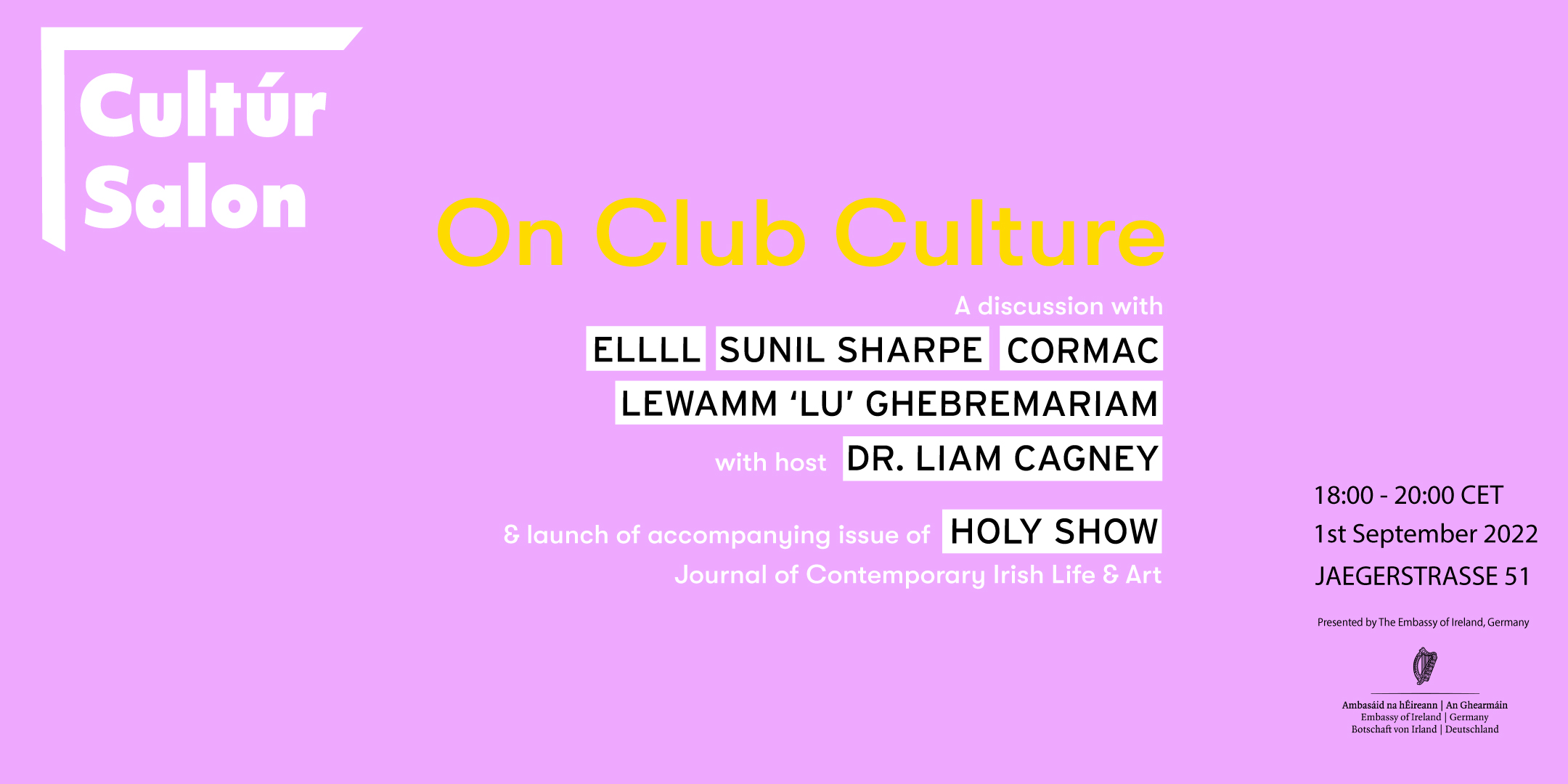 Cultúr Salon - On Club Culture
A discussion and exhibition from some of
Ireland and Germany's
leading voices on club culture
A recent Clubcommission study reported that Berlin's club scene contributes €1.5 billion annually to the city's economy - With new strategies being explored to augment and maximise Ireland's nightlife culture, The Embassy will hold a timely and ground-breaking salon on the topic of Club Culture. With practitioners working hard to be recognised as valuable contributors to culture, we'll explore discourse such as what makes Irish club culture unique and where Ireland stands on the clubbing world-stage.
Musicologist and journalist Liam Cagney will lead the diverse panel discussion on club culture with esteemed contributors ELLLL (GASH COLLECTIVE), Cormac, Lu (Clubcommission), and Sunil Sharpe.
The event will feature an exhibition of images by photographer and fine artist Ciara Lee and is complimented by the Berlin launch of the 4th edition of the cutting-edge Irish arts annual publication Holy Show, with a special feature of accompanying interviews with the panellists.
About the panel:
ELLLL is a breakthrough Irish-born DJ/producer and GASH COLLECTIVE founder based in Berlin with a unique approach to bass, techno and off-kilter club music.
Cormac is a Northern Ireland-born DJ, artist and activist now living in Berlin from where he runs his label Polari, focused on queer art and artists
Lewamm "Lu" Ghebremariam considers herself a cultural architect. The Berlin based German-Eritrean has been founding, curating, strategising and educating on a variety of cultural and socio-political initiatives as well as business ventures. Lewamm recently founded her boutique agency "LEMLEM culture" giving the multi hyphenate a frame to offer her diverse skill set and strategy expertise. She's an honorary board member of the Berlin Clubcommission, co-initiated and supervises the "Awareness Akademie" a platform for the club scene focusing on awareness, a low-discriminatory, diverse and sustainable club culture. Lewamm is a founding member of the queer-feminist collective BRENN. For her continuous work on elevating marginalised voices in civil society, music and club culture, she was included in the "Alternative Power 100 Music List 2020" by shesaid.so and Nativeinstruments.
Sunil Sharpe is an Irish DJ and founder of strategic group 'Give Us The Night'. As an established regular in Europe's renowned techno clubs, he harnesses an ambitious bustling style of techno production including his own label On The Hoof, Tinfoil project with DeFeKT featuring warped sound design and high-impact arrangements, and operating the long-running Earwiggle imprint. He has been working at Bray Institute of Further Education for over 15 years where he teaches a one-year standalone DJ Techniques and Music Production course.
Liam Cagney's writings on club culture have been published in places like The Guardian, Frieze and TOLKA and broadcast on RTÉ Lyric FM. Having lectured on electronic dance music at places like UCD and BIMM, he is currently completing a book on techno and club culture.
About the exhibition:
Ciara Lee studied Fine Art Painting at the National College of Art and Design where she became interested in taking photographs of her peers dancing. After completing her studies, she moved to Berlin (the techno capital) where she got the opportunity to live in an artist community in Weissensee called ECC. It is here where she developed her painting style and dived deeper into what became the project "Balter". Her work has most recently been shown in the RHA's 192nd Annual Exhibition.
Tickets for this cost-free event, which will be held at the Embassy of Ireland between 18.00hrs and 20.00hrs on Thursday 01 September can be secured at the following link Cultúr Salon on Club Culture Tickets, Do, 01.09.2022 um 18:00 Uhr | Eventbrite
The embassy is located at 51 Jaegerstrasse, 10117, Berlin.