Ireland as Country of Honour at Buergerfest 2022
News
29 July 2022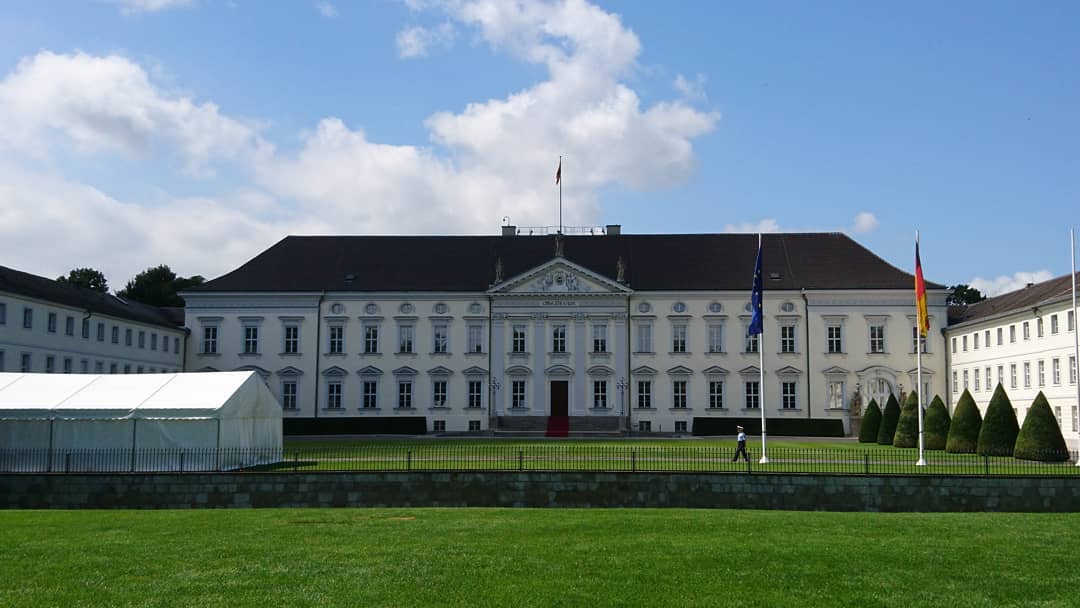 Schloss Bellevue Berlin
Ireland to be Country of Honour
at German President's Citizens' Festival.



Sch

ö

nes Irland/Beautiful Ireland
Ireland is delighted to be the Country of Honour at President Steinmeier's Citizens' Festival on 27 August 2022. President Steinmeier and Frau Büdenbender will celebrate, in particular, those people across Germany working in the areas of civic engagement, civil society and cohesion.
Ireland, as the Country of Honour, will bring its own flavour to the festival and allow guests the opportunity to experience the beauty of Ireland, and the very best of Irish culture and Irish food & drink.
Ireland's Minister of State for European Affairs, Thomas Byrne, who will attend the festival in Berlin, spoke of the honour of Ireland's participation in the festival saying, "Ireland's selection as the Country of Honour at President Steinmeier's Citizens' Festival highlights the strong links shared between our peoples which President Steinmeier was able to experience on his recent State Visit to Ireland in October 2021. I greatly look forward to seeing the very best of Ireland demonstrated to the Bürgerfest guests."
Outlining Ireland's offerings at the festival, Ambassador Dr. Nicholas O'Brien said "Guests will get a taste of Ireland at the Irish Food Agency's (Bord Bia) pavilion and can then plan their holiday trip to Ireland when visiting the Tourism Ireland pavilion."
In addition to the taste and flavour of Ireland, guests can experience Irish storytelling, traditional music, face painting & family activities such as virtual trips through Ireland as well as the spectacles of both Irish traditional sports and dance. "We very much look forward to demonstrating traditional Irish sporting skills & agility and to offering visitors the opportunity to participate."
"The highlight of the Irish offering will be the Irish dance phenomenon Riverdance, who will perform their exceptional show on both evenings, bringing excitement and emotion to traditional Irish dancing."
Note: Bundespräsident Frank-Walter Steinmeier and Frau Elke Büdenbender will open to the public, the doors of their official residence at Schloss Bellevue (the official residence of the Bundespresident) on 27 August. The festival will celebrate individuals and entities across Germany working in the voluntary sector.
Tickets to attend the citizen's festival, are available at the following link www.bundespraesident.de/buergerfest-2022.
Riverdance is an exceptional performance of Irish dancing of music which first came to fame as the interval act at the Eurovision song contest in Ireland in 1994.
Irland wird europäisches Partnerland
beim Bürgerfest des Bundespräsidenten.
Schönes Irland/Beautiful Ireland
Irland freut sich, das europäische Partnerland des Bürgerfestes von Bundespräsident Steinmeier am 27. August 2022 zu sein. Bundespräsident Steinmeier und Frau Büdenbender werden bei diesem Anlass insbesondere diejenigen Menschen in Deutschland würdigen, die sich in den Bereichen bürgerschaftliches Engagement, Zivilgesellschaft und Zusammenhalt engagieren.
Irland wird als Partnerland dem Festival seine eigene Note verleihen und den Gästen die Möglichkeit geben, die Schönheit Irlands, das Beste der irischen Kultur sowie irische Speisen und Getränke zu erleben und zu genießen.
Der irische Staatsminister für europäische Angelegenheiten, Thomas Byrne, der an dem Festival in Berlin teilnehmen wird, betont die Anerkennung, die Irland durch diese Rolle zuteil wird: "Die Einladung Irlands als europäisches Partnerland des Bürgerfestes von Bundespräsident Steinmeier unterstreicht die starken Verbindungen zwischen unseren beiden Nationen, die Präsident Steinmeier bei seinem jüngsten Staatsbesuch in Irland im Oktober 2021 erleben durfte. Ich freue mich sehr darauf, dass Irland sich den Gästen des Bürgerfestes von seinen besten Seiten präsentieren wird."
Botschafter Dr. Nicholas O'Brien gibt einen Ausblick auf die Angebote bei diesem Festival: "Im Pavillon der irischen Lebensmittelbehörde (Bord Bia) werden die Gäste einen Vorgeschmack auf Irland bekommen und im Pavillon von Tourism Ireland können sie ihre Urlaubsreise nach Irland planen".
Neben dem Geschmack und dem Aroma Irlands können die Gäste irisches Geschichtenerzählen, traditionelle Musik, Gesichtsbemalung und Familienaktivitäten wie z. B. virtuelle Reisen durch Irland sowie die Vorführung traditioneller irischer Sportarten und Tänze erleben. "Wir freuen uns sehr darauf, traditionelle irische Sportarten und Geschicklichkeit demonstrieren zu dürfen und den Besucher*innen die Möglichkeit zu geben, daran teilzunehmen."
"Der Höhepunkt des irischen Angebots wird das irische Tanzphänomen Riverdance sein, das an beiden Abenden seine außergewöhnliche Show aufführen wird und den traditionellen irischen Tanz mitreißend und emotional präsentieren wird."
Hinweis: Bundespräsident Frank-Walter Steinmeier und Frau Elke Büdenbender werden am 27. August die Türen ihres Amtssitzes im Schloss Bellevue für die Öffentlichkeit öffnen. Das Festival wird Personen und Einrichtungen in ganz Deutschland würdigen, die ehrenamtlich tätig sind.
Eintrittskarten für das Bürgerfest sind unter dem folgendem Link erhältlich: www.bundespraesident.de/buergerfest-2022.
Riverdance ist eine außergewöhnliche Darbietung irischer Tänze und Musik, die erstmals 1994 als Intervall-Act beim Eurovision Song Contest in Irland zu Ruhm gelangte.