Cultúr Salon - on revival - from Synge's work to the contemporary on J M Synge
News
08 June 2021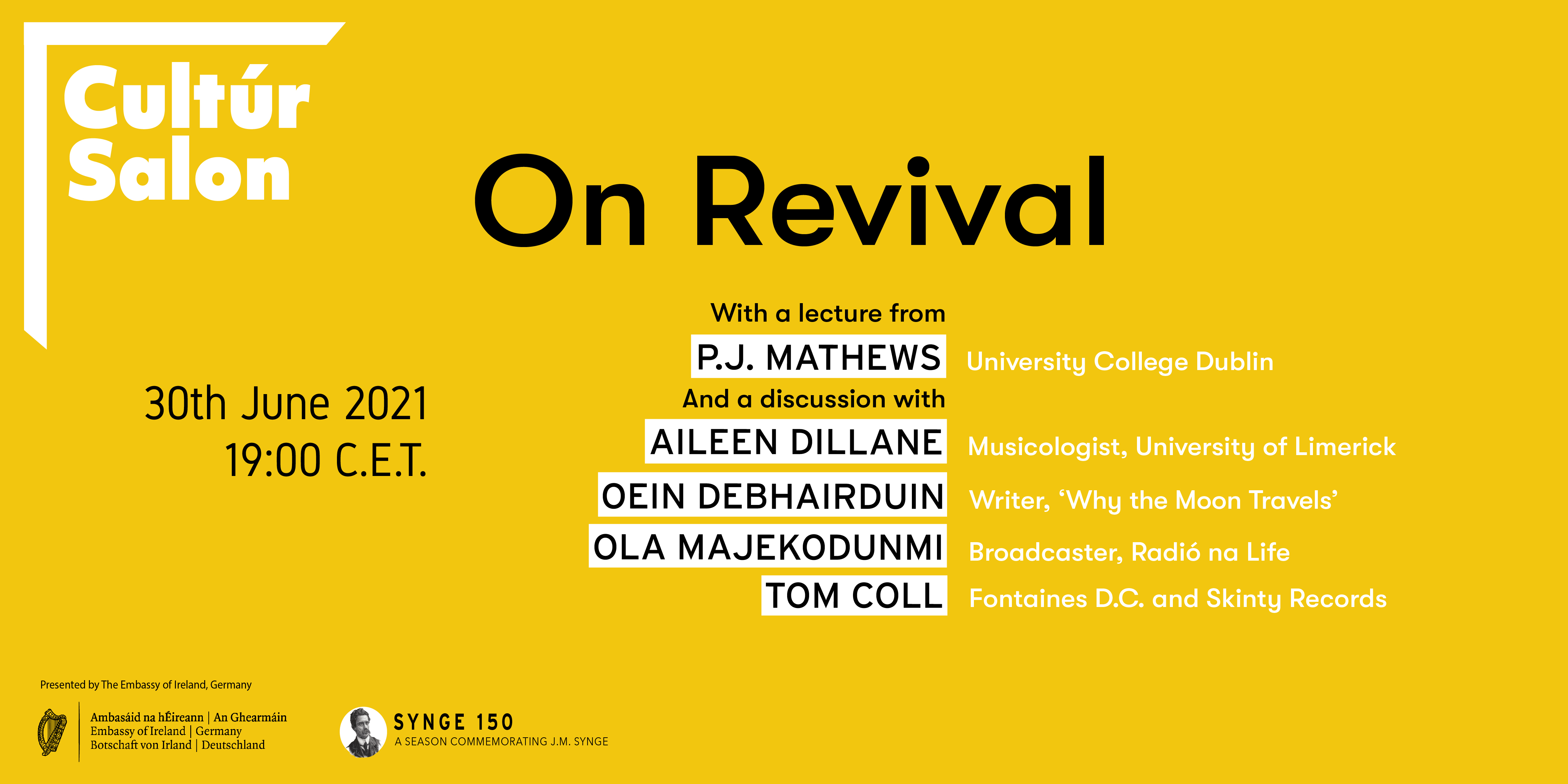 Cultúr Salon - On Revival - from Synge's work to the contemporary
The second event of the Synge 150 season, this Cultúr Salon event looked at the theme of Revival - from Synge's work on the Irish revival over 100 years ago to revival in a modern context, with a panel of speakers giving insight on revival of Irish music, folktales, and language. Featuring a lecture from Dr P.J. Mathews on Synge's revival work, and panel discussion with musicologist at University of Limerick Dr. Aileen Dillane, writer and collector of Mincéir/Traveller folk-stories Oein DeBhairduin, Journalist, Gaeilgeoir and broadcaster Ola Majekodunmi, and drummer of Grammy and Brit nominated band Fontaines D.C. and founder record label Skinty Records Tom Coll. The video of the salon is available below.
About the speakers:
Dr P.J. Mathews:
Dr P.J. Mathews is Director of the Creative Futures Academy at University College Dublin, and has written widely on Irish literature and theatre. He is co-editor (with Declan Kiberd) of Handbook of the Irish Revival, published by the Abbey Theatre Press in 2015; editor of The Cambridge Companion to J. M. Synge (2009); and author of Revival, published by Field Day in 2003. Dr Mathews is a member of the governing board of RTÉ and Director of Academic Podcasting for UCDscholarcast (www.ucd.ie/scholarcast). He was appointed Naughton Fellow and Visiting Associate Professor of English at the University of Notre Dame for 2007-08, and was Director of the Parnell Summer School, 2002-05.
Dr. Aileen Dillane:
Dr. Aileen Dillane is Senior Lecturer in Music at the Irish World Academy, University of Limerick. She has a PhD from University of Chicago where she was a Fulbright Scholar and Century Fellow. Aileen co-founded and co-directs Centre for the Study of Popular Music, Popular Culture and co-edits their associated book series, Popular Musics Matter: Social, Cultural and Political Interventions and Discourse, Power and Society, both of which are published with Rowman and Littlefield. She is the Irish PI on an EU-Funded HERA project FestiVersities: European Music Festivals, Public Spaces and Cultural Diversity (2019-2022). As well as engaging in popular music and festival research, Aileen performs and writes about Irish Traditional Music and is currently completing a book entitled Irish (American) Musical Imaginaries based on fieldwork in Ireland and Chicago.
Oein DeBhairduin:
Oein DeBhairduin is a creative soul with a passion for poetry, folk herbalism and preserving the beauty of Mincéir/Traveller tales, sayings, retellings and historic exchanges. He is the manager of an education centre and a long-time board member of several Mincéirí community groups, including having had the honour of being vice-chair of the Irish Mincéir/Traveller Movement and a council member of Mincéir Whidden. He seeks to pair community activism with cultural celebration, recalling old tales with fresh modern connections and, most of all, he wishes to rekindle the hearth fires of a shared kinship.
Ola Majekodunmi:
Ola Majekodunmi was born in Lagos, Nigeria and raised in Dublin, Ireland. She is an Irish language broadcaster, freelance journalist, Gaelgeoir, creator, co-founder of Beyond Representation and Board of Directors member on both Foras na Gaeilge & Mother Tongues Ireland. She has been a radio presenter with Raidió na Life 106.4FM for the past 6, where she presents the popular African Irish show, 'Afra-Éire'. She graduated from an undergraduate at IADT in BA (hons) English, Media, and Cultural studies in 2018, with her final year thesis on the 'Politics of Black Women's Hair'. She is also a graduate in M.A. in Digital Broadcast Production at the National Film School in IADT since 2019. She has written for The Irish Times, Journal.ie, rogue collective, NÓS, gal-dem.com (UK) and Feminine Collective (US) among others. She often contributes to RTÉ Raidió na Gaeltachta, RTÉ 2FM, RTÉ 2XM, BBC Radio Ulster, BBC Radio Foyle, RTÉ Radio 1, as well as the popular Motherfoclóir podcast.
In 2018, Ola directed and produced the viral video- 'What Does "Irishness" Look Like?' which was screened at the Belfast Feminist Festival, Belfast Film Festival and Rathmullan Film Festival.
Tom Coll:
Tom Coll is the drummer for the Grammy-nominated post-punk band Fontaines DC who's second record "A Hero's Death' has received international acclaim as well as a Brit Award nomination for the band as Best International Act.
Tom also runs his own record label Skinty Records and has just announced it's debut release "Goitse A Thaisce". The ethos of the label is to promote traditional Irish music and song through reissues and compilations of artists both old and new.
Die zweite Veranstaltung der Synge 150-Saison wird im nächsten Cultúr Salon vorgestellt und befasst sich mit dem Thema des irischen Revivals vor über 100 Jahren bis hin zum Revival in einem modernen Kontext. Dieses Event wird mit Hilfe einer Gruppe von bedeutenden Rednern Einblicke in die Wiederbelebung irischer Musik, Märchen und Sprache geben. Das Event wird einen Vortrag von Dr. P.J. Mathews, sowie eine Diskussion mit der Musikwissenschaftlerin an der Universität von Limerick, Aileen Dillane, Autor und Sammler von Traveller -Geschichten Oein DeBhairduin, Gaeilgeoir und Rundfunksprecherin Ola Majekodunmi, sowie der von Grammy und Brit nominierten Schlagzeuger der Band Fontaines DC und Plattenlabel-Inhaber Tom Coll, präsentieren.
Über die Redner*innen:
Dr. P. J. Mathews:
Dr. P. J. Mathews ist Direktor der Creative Futures Academy am University College Dublin und hat umfangreich über irische Literatur und Theater geschrieben. Er ist Mitherausgeber (zusammen mit Declan Kiberd) des Handbuchs Handbook of the Irish Revival, das 2015 von der Abbey Theatre Press veröffentlicht wurde. Herausgeber von The Cambridge Companion to J. M. Synge (2009); und Autor von Revival, veröffentlicht von Field Day im Jahr 2003. Dr. Mathews ist Mitglied des Verwaltungsrates von RTÉ und Direktor für akademisches Podcasting bei UCDscholarcast (www.ucd.ie/scholarcast). 2007/08 wurde er zum Naughton Fellow und Visiting Associate Professor für Englisch an der University of Notre Dame ernannt und war von 2002 bis 2005 Direktor der Parnell Summer School.
Dr. Aileen Dillane:
Dr. Aileen Dillane ist Dozentin für Musik an der Irish World Academy der University of Limerick. Sie promovierte an der University of Chicago, wo sie Fulbright-Stipendiatin und Century Fellow war. Aileen ist Mitbegründerin und Co-Leiterin des Zentrums für das Studium der Popmusik, Populärkultur und Mitherausgeberin der dazugehörigen Buchreihe Populäre Musik: Soziale, kulturelle und politische Interventionen sowie Diskurs, Macht und Gesellschaft, die beide mit veröffentlicht wurden von den Verlegern Rowman und Littlefield. Sie ist die irische PI bei einem EU-finanzierten HERA-Projekt FestiVersities: Europäische Musikfestivals, öffentliche Räume und kulturelle Vielfalt (2019-2022). Aileen beschäftigt sich nicht nur mit populärer Musik und Festivalforschung, sondern spielt selbst und schreibt auch über traditionelle irische Musik und arbeitet derzeit an einem Buch mit dem Titel Irish (American) Musical Imaginaries, das auf Feldforschung in Irland und Chicago basiert.
Oein DeBhairduin:
Oein DeBhairduin ist eine kreative Seele mit einer Leidenschaft für Poesie, Volkskräuterkunde und der Bewahrung der Schönheit von Geschichten, Sprüchen, Nacherzählungen und historischem Austausch der Traveller-Gemeinde. Er ist Leiter eines Bildungszentrums und langjähriges Vorstandsmitglied mehrerer Mincéirí-Gemeindegruppen, darunter hat er die Ehre, stellvertretender Vorsitzender der irischen Traveller – Gemeinde und Ratsmitglied von Mincéir Whidden zu sein. Er versucht, Gemeinschaftsaktivismus mit kulturellen Veranstaltungen zu verbinden und erinnert sich dabei an alte Geschichten mit neuen modernen Verbindungen. Doch vor allem möchte er die Feuer einer gemeinsamen Verwandtschaft wieder entfachen.
Irische Sprecherin, Journalistin und Rundfunksprecherin Ola Majekodunmi:
Ola Majekodunmi wurde in Lagos, Nigeria, geboren und wuchs in Dublin, Irland, auf. Sie ist eine irischsprachige Rundfunksprecherin, freiberufliche Journalistin, Gaelgeoir, Gründerin und Mitbegründerin von Beyond Representation und Mitglied des Board of Directors bei Foras na Gaeilge und Mother Tongues Ireland. In den letzten 6 Jahren war sie Radiomoderatorin bei Raidió na Life 106.4FM, wo sie die beliebte afrikanisch-irische Show "Afra-Éire" präsentiert. 2018 schloss sie ihr Studium an der IADT in BA (hons) Englisch, Medien und Kultur mit ihrer Abschlussarbeit zum Thema "Politik der Haare schwarzer Frauen" ab. Seit 2019 hat sie einen MA in digitaler Rundfunkproduktion an der National Film School in IADT. Sie hat unter anderem Beiträge für The Irish Times, Journal.ie, rogue collective, NÓS, gal-dem.com (UK) und Feminine Collective ( US) geschrieben. Sie trägt häufig zu RTÉ Raidió na Gaeltachta, RTÉ 2FM, RTÉ 2XM, BBC Radio Ulster, BBC Radio Foyle, RTÉ Radio 1 sowie zum beliebten Motherfoclóir-Podcast bei.
2018 führte Ola Regie und produzierte das virale Video "Wie sieht" Irisch "aus?", Das auf dem Belfast Feminist Festival, dem Belfast Film Festival und dem Rathmullan Film Festival gezeigt wurde.
Tom Coll:
Tom Coll ist der Schlagzeuger der Grammy-nominierten Post-Punk-Band Fontaines DC, deren zweites Album A Hero's Death internationale Anerkennung sowie eine Brit Award-Nominierung für die Band als Best International Act erhalten hat. Tom betreibt sein eigenes Plattenlabel Skinty Records und hat gerade seine Debütveröffentlichung Goitse A Thaisce angekündigt. Das Ethos des Labels ist es, traditionelle irische Musik und Lieder durch Neuauflagen und Zusammenstellungen alter und neuer Künstler zu fördern.
Registrieren Sie sich hier:
Cultúr Salon - On Revival - from Synge's work to the contemporary Tickets, Wed 30 Jun 2021 at 19:00 | Eventbrite