In the Green Room with The Saviour
News
08 June 2021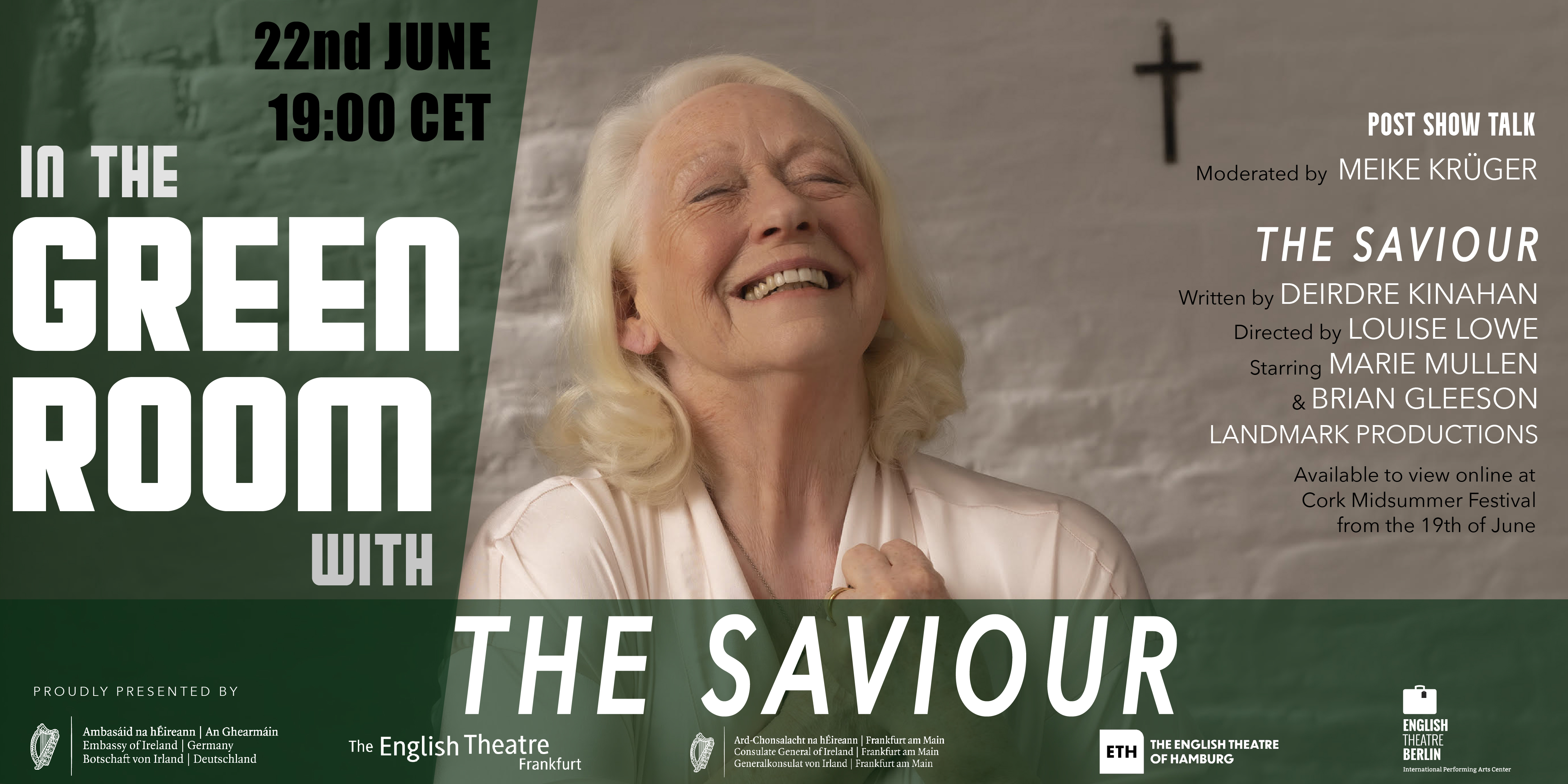 In the Green Room with The Saviour
A Post Show Talk
The Embassy of Ireland in Germany and the Consulate General of Ireland in Frankfurt were thrilled to present, in partnership with The English Theatre in Frankfurt, English Theatre Berlin, and The English Theatre of Hamburg, 'In the Green Room with The Saviour'- a post-show talk with the team behind the brand new Irish play 'The Saviour'. This new play by Deirdre Kinahan is presented by Landmark Productions, one of Ireland's leading theatre producers.
For the first time ever, all of the English theatres in Germany were brought together in a partnership to present theatre to a nationwide English speaking German audience. Audiences were invited to partake in this interactive Q+A to gain deeper insights into this highly anticipated play and were able to book tickets for the live premiere or as Video on Demand as part of Cork Midsummer Festival.
Moderated by journalist Meike Krüger, the acclaimed team of writer Deirdre Kinahan, Director Louise Lowe, actor Marie Mullen, and producer Anne Clarke shed light on this exciting work that reflects deeply on cultural transformations in Ireland.
The Saviour is a new play that charts the extraordinary shift in social, political and religious life in Ireland over the past thirty years. It is a play that asks questions about responsibility, about how we respond to trauma, and about the tricky question of forgiveness.
We were delighted that you could join us 'In the Green Room with The Saviour' on the 22nd of June live on Zoom or from any of the partners' Facebook pages. if you weren't able to join us live, then you can still watch the discussions above.
Watch 'The Saviour' at Cork Midsummer Festival from the 19th – 27th of June. Book tickets here
The Saviour | Landmark Productions
In the Green Room mit The Saviour
Ein Publikumsgespräch nach der Veranstaltung
Die Botschaft von Irland in Deutschland und das Generalkonsulat von Irland in Frankfurt freuen sich, gemeinsam mit dem Englischen Theater in Frankfurt, dem Englischen Theater in Berlin und dem Englischen Theater in Hamburg "In The Green Room with The Saviour" präsentieren zu dürfen - ein nach der Veranstaltung stattfindendes Publikumsgespräch bei dem das Team hinter Der Erlöser über ihr brandneues, irisches Stück sprechen wird. Dieses neue Theaterstück von Deirdre Kinahan wird von Landmark Productions, einem der führenden Theaterproduzenten Irlands, präsentiert.
Zum ersten Mal werden alle englischen Theater in Deutschland unter einer Partnerschaft zusammengebracht, um einem bundesweit englischsprachigen, deutschen Publikum ein Theaterstück zu präsentieren. Das Publikum kann Karten für die online Live-Premiere des Cork Midsummer Festivals kaufen und anschließend an dieser interaktiven Fragerunde teilnehmen, um tiefere Einblicke in dieses mit großer Spannung erwartete Stück zu erhalten.
Unter der Moderation der Journalistin Meike Krüger, wird das renommierte Team aus der Schriftstellerin Deirdre Kinahan, der Regisseurin Louise Lowe, der Schauspielerin Marie Mullen und der Produzentin Anne Clarke Licht in diese aufregende Arbeit bringen, die sich mit tiefgreifenden kulturellen Veränderungen in Irland befasst.
"The Saviour" ist ein neues Stück, dass die außergewöhnliche Veränderung des sozialen, politischen und religiösen Lebens in Irland in den letzten dreißig Jahren darstellt. Es ist ein Stück, das Fragen zur Verantwortung, zur Reaktion auf Traumata und zur kniffligen Frage der Vergebung stellt.
Nehmen Sie am 22. Juni live über Zoom oder auf einer der Facebook-Seiten der Partner an "In The Green Room with The Saviour" teil. Registrieren Sie sich weiter unten um teilzunehmen.
Sehen Sie sich vom 19. bis 27. Juni im Cork Midsummer "The Saviour" an. Tickets können hier gebucht werden
The Saviour | Landmark Productions