Irish Friday Club
Event
06 December 2018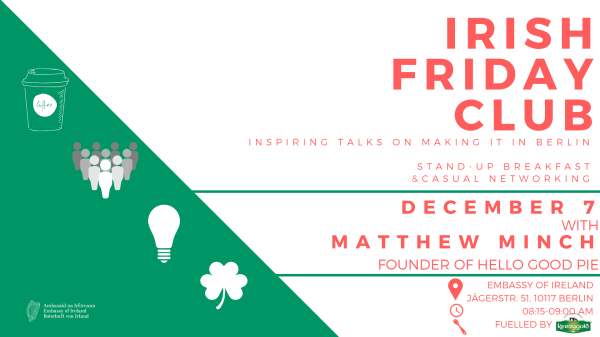 Join us for the last Irish Friday Club in this year - learn about how to start a food business in Berlin and enjoy a special pie from Matthew Minch, Founder of HelloGoodPie!

Event details:
Friday, 7 December 2018 at Embassy of Ireland, Jägerstr. 51, 10117 Berlin.

08:15 am
Registration & stand-up breakfast

08:30 am
Talk by Matthew Minch, Founder of HelloGoodPie on
starting & growing a food business in Berlin

09:00 am
Q&A

09:15 am
Casual networking

09:30 am
Get to work!
We can only offer limited spaces, please register for the event before 6 december, 5 pm here: https://bit.ly/2DQtlIH
About Matthew Minch, Founder of HelloGoodPie
Irish native Matthew Minch founded HelloGoodPie in Berlin in April 2013. Matthew completed a degree in Business Studies before realising that his interests lay in the world of food, as opposed to the world of finance. He enrolled at a catering school and began his epicurean journey. Directly after finishing catering school, Matthew travelled around the globe, exploring an exciting range of new foods but paying special attention to the pie cultures he experienced in Australia, New Zealand and the UK. He decided to settle in Berlin, bringing his passion for great food with him and introducing Irish pies to Germany. In 2014 he was joined by business partner Peter Olubodun (the man behind the cakes and sweet pies) and together they continued to grow HelloGoodPie - one of a number of new and exciting Irish food companies in Berlin.