Irish Parent Café in December on the 06th December 2018
News
14 November 2018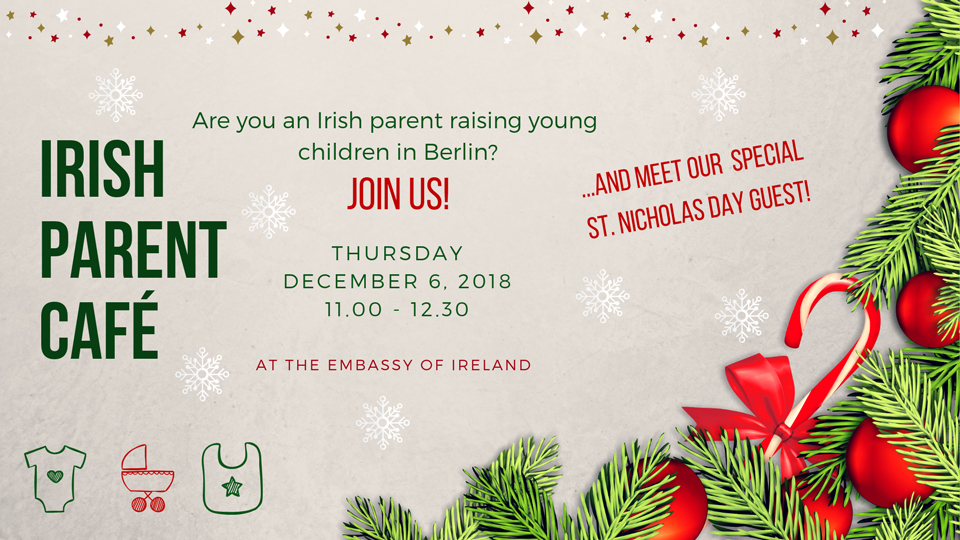 Irish Parent Café in December on the 06th December 2018
Are you an Irish parent raising a young family in Berlin?
We would like to invite you to our second Irish Parent Café here at the Embassy of Ireland in Berlin! Bring your toddler along and connect with other parents while enjoying a festive cup of punch and some Christmas-"Plätzchen". Exchange experiences and tips with other parents from the Irish community and meet our special St. Nicholas Day Guest!
If you are interested in coming along, please RSVP by the 29.11.2018 by clicking on the following link: https://bit.ly/2OHjuXz

Sind Sie irische Eltern mit einer jungen Familie in Berlin?
Dann möchten wir Sie herzlichst zu unserem zweiten "Irish Parent Café" hier in der Irischen Botschaft in Berlin einladen! Bringen Sie ihre Kleinen mit und lernen Sie andere Eltern, bei einer weihnachtlichen Tasse Punsch und Plätzchen, kennen. Hierbei ergibt sich die Möglichkeit Erfahrungen und Ratschläge mit anderen Eltern aus der irischen Gemeinschaft auszutauschen und unseren besonderen St. Nikolaustags-Gast zu treffen.
Sollten Sie Interesse an einer Teilnahme haben, melden Sie sich gerne bis zum 29.11.2018 durch den folgenden Link an: https://bit.ly/2OHjuXz