Minister Donohoe visits Germany
News
02 December 2019
Irish Minister for Finance Paschal Donohoe visits Germany – November 2019
The Embassy in Berlin alongside the Consulate General in Frankfurt were honoured to accompany Ireland's Minister for Finance and Public Expenditure & Reform, Minister Paschal Donohoe T.D. as he visited Germany this week for high level engagements.
Minister Donohoe commenced his visit on Monday 25 November in Frankfurt where he spoke at an investor engagement event hosted by Ireland's National Treasury Management Agency (NTMA). The event was strongly focussed on current challenges such as Brexit, global tax reform and trade and saw Minister Donohoe speak of the strengths of the Irish economy, including its strong & agile institutions as well as its open society.
Minister Donohoe then travelled to Berlin where on Tuesday 26 November, he had a productive meeting with the German minister for Economic Affairs, Peter Altmaier (CDU), in which they discussed Irish-German relations, Brexit negotiations and the future of the EU under the new Commission.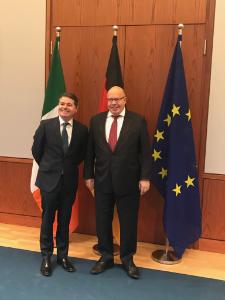 ‌M‌inister Donohoe with Minister Altmaier
He then met with the German Finance Minister Olaf Scholz (SPD) to talk about international taxation, Brexit, and bilateral cooperation. Minister Donohoe's visit also saw discussions at the Wirtschaftsrat and an interview with Bloomberg TV on capital investment and interest rates. He also met with Germany's former Minister for Finance and current Bundestag President Dr. Wolfgang Schaeuble. After being interviewed by Derek Scally of the Irish Times, the Minister finished the Berlin leg of his trip with a working dinner with politicians, academics and economists.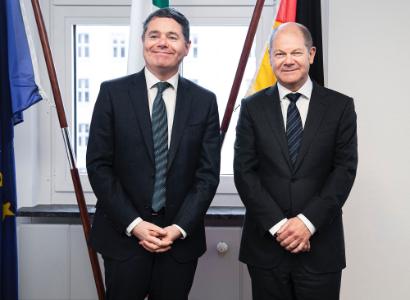 ‌
M‌inister Donohoe with Minister Scholz‌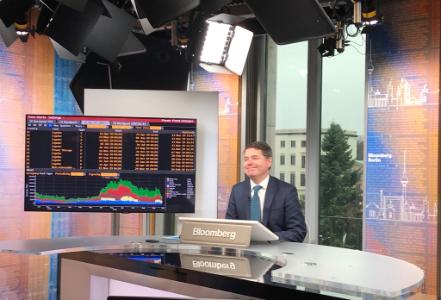 M‌inister Donohoe in Bloomberg Studios
Minister Donohoe then returned to Frankfurt on 27 November where he visited the headquarters of the European Central Bank. He met with ECB President Christine Lagarde as well as the 100 strong team of Irish men and women employed at the bank. The Minister used this opportunity to brief the ECB President on the performance of the Irish economy and to discuss developments in the Euro zone.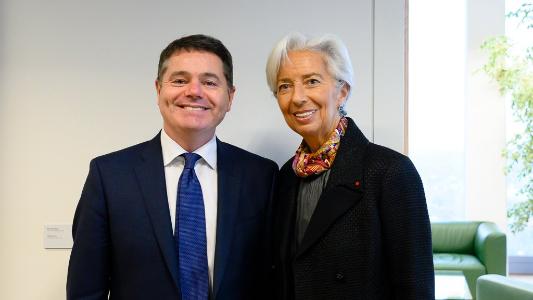 Minister Donohoe with Christine LaGarde
The Minister conducted an interview at the Frankfurt Allgemeine Zeitung with journalists and editors from their Economics Department during which he addressed a range of issues including Brexit, the Irish economy including the recent budget, tax policy and German-Irish relations.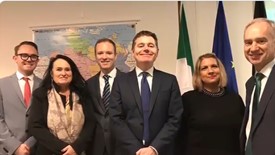 Minster Donohoe with Ambassador O'Brien, CG Lynam and the team of CG Frankfurt
Minister Donohoe concluded his visit to Germany by thanking both Ambassador O'Brien and Consul General Lynam as well as the teams in Frankfurt, Berlin and beyond for their work representing & supporting Irish interests abroad.
Minister Donohoe's visit to Germany November 2019