New Irish Creatives 2020
News
02 December 2020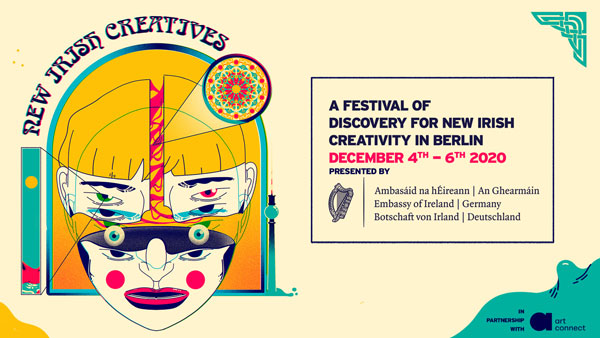 Cover image by Robert Mirolo
A festival of discovery for what's new in Irish creativity in Berlin
4th, 5th, 6th December
For our biannual festival of New Irish Creativity we have designed a showcase of multi-disciplinary creativity for viewers to discover new talent in Berlin and for talent to discover new ways to bring their creativity forward in Berlin and beyond! The festival will take place on the 4th, 5th, and 6th of December and will take the form of high engagement masterclasses, artist's networking, artist's strategies workshops, livestreamed discussions with industry professionals, and artist's showcases both livestreamed and in the 'New Irish Creatives' digital magazine.


This year we have also launched the New Irish Creatives Film Grant. Six short films have been chosen to receive the grant and will be screened during the festival. One film will be chosen by a panel of industry professionals to receive the New Irish Creatives Film award.


Register to receive updates, take part in the various events, find out about the Masterclasses, and tune in to 'New Irish Creatives'.
-----------------------------------------------------------------------------------------------------------------------
Ein Entdeckungsfestival für Neues aus der irischen Künstlerszene in Berlin
4., 5., 6. Dezember
Alle zwei Jahre findet unser 'New Irish Creatives' Festival statt. Dieses Jahr haben wir uns einen besonderen Showcase in multidisziplinären kreativen Bereichen ausgedacht, damit Zuschauer neue Talente in Berlin entdecken und neue Wege finden können, um ihre Kreativität in Berlin und darüber hinaus voranzutreiben! Das Festival findet am 4., 5. und 6. Dezember statt. Es wird spannende Masterclasses, Künstler-Networking-Gruppen, Workshops zu Künstlerstrategien, Livestream-Diskussionen mit Branchenfachleuten und Künstler-Showcases sowohl im Livestream als auch in dem 'New Irish Creatives' digitalen Magazin geben.


In diesem Jahr haben wir dazu den 'New Irish Creatives Film Grant' ins Leben gerufen. Sechs Kurzfilme wurden ausgewählt, um das Stipendium zu erhalten und sie werden während des Festivals gezeigt. Nur ein Film, ausgesucht von einer Jury aus Branchenfachleuten, wird ausgewählt um den New Irish Creatives Film Award zu erhalten.


Registrieren Sie sich für Updates, um an den verschiedenen Veranstaltungen teilzunehmen, um sich über die Masterclasses zu informieren und alles weitere über 'New irish Creatives' zu erfahren.