Frederick Douglass in Ireland - 175th Anniversary Commemorations
News
15 October 2020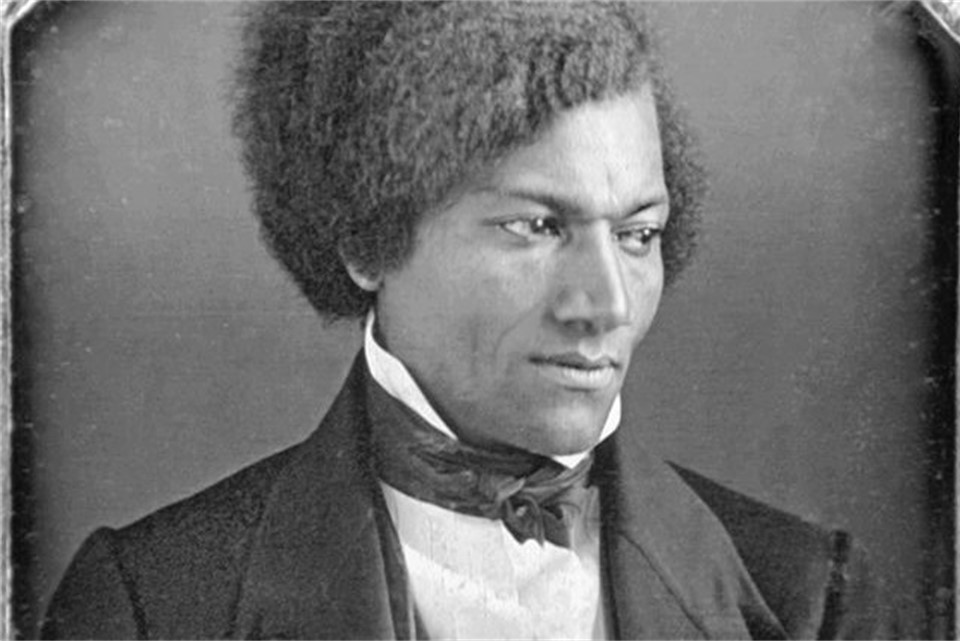 Frederick Douglass, the most photographed man of the 19th Century, in the decade he visited Ireland
''Eleven days and a half gone, and I have crossed three thousand miles of the perilous deep ocean… Instead of the bright blue sky of America, I am covered with the soft grey fog of the Emerald Isle. I breathe, and lo! the chattel becomes a man. I gaze around in vain for one who will question my equal humanity, claim me as his slave, or offer me an insult."
Frederick Douglass, January 1846, reflecting on his arrival in Dublin on 31 August, 1845
At a time of extensive debate in both the United States and Ireland on racial inequities and how to address them, join us in reflecting on the legacy of arguably history's greatest abolitionist and civil rights activist, and his ''transformative'' visit to Ireland, 175 years ago.
Douglass in Ireland
Frederick Douglass was born into slavery in Maryland in 1818. Aged about twelve, two Irishmen working in a ship-yard alongside him counselled young Douglass ''run away to the north''. Eight years later, he did just that, establishing himself in Massachusetts.
He documented his life in servitude and escape from it in his autobiography, The Narrative of the Life of Frederick Douglass, An American Slave published, to great controversy and acclaim, in the spring of 1845.
Three short months later, Douglass fled Boston for Ireland. After a short stop in Liverpool, he arrived on 31 August, 1845, writing to friends in America, ''I am now safe in old Ireland, in the beautiful city of Dublin''.
His stay was to have been only a few weeks, but lasted more than four months. In that time, Douglass delivered scores of lectures across Dublin, Wexford, Waterford, Limerick, Cork and Belfast; published an Irish edition of The Narrative; bore witness to the suffering & strife of a people experiencing the first months of what would be the Great Famine; and met fellow celebrated abolitionists, above all ''the Liberator'' Daniel O'Connell, by whose oratory Douglass was ''completely captivated'', his style of ''sweet persuasiveness… beyond any voice I ever heard.''
Writing to William Lloyd Garrison from Belfast, towards the end of his stay, Douglass observed that: ''I can truly say, I have spent some of the happiest moments of my life since landing in this country. I seem to have undergone a transformation. I live a new life.''
The Douglass Legacy in Ireland: Commemorations & Reflections
Through 2020 and the first months of 2021, the Embassy of Ireland and our Consulates in New York and elsewhere are partnering with organisations across Ireland and the United States to mark the 175th anniversary of Douglass's visit and to reflect on his enduring legacy.
Already, we have already held several major events, including a virtual tour of Dublin in Douglass's footsteps as part of Ireland's Culture Night on 18 September and
''Agitate: Frederick Douglass & Ireland''
, a conversation with some of America's foremost black history & Douglass scholars on 29 September, the anniversary of Douglass's first meeting with Daniel O'Connell.
On that same date, our Minister for Foreign Affairs Simon Coveney joined Nettie Washington Douglass, Frederick's great-great granddaughter and James Pellow, CEO of the The Council on International Educational Exchange (CIEE) to announce a new initiative,
the Frederick Douglass Global Fellowships
, which will see ten outstanding American students from minority backgrounds follow in Douglass's footsteps by studying in Ireland next summer.
If you've missed these events, don't worry. A host of other programmes are planned over the coming weeks and months, with highlights including: