Celebrating 30 Years of the Irish Echo newspaper
News
24 July 2019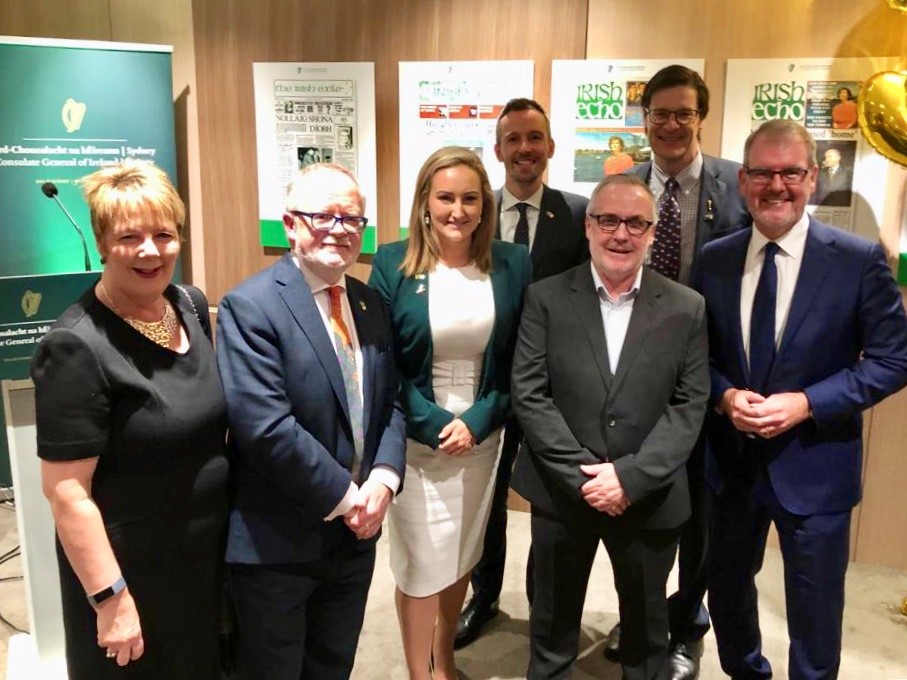 Ms Carmel Callan, Amb. Breandán Ó Caollaí, the Member for Coogee, Dr Marjorie Spooner O'Neill, Consul General Owen Feeney, Editor of the Irish Echo Billy Cantwell, Speaker Jonathan O'Dea, and the Member for Maroubra Michael Daley at the Consulate.
Contributors, former staff, advertisers, readers and many fans of the Irish Echo newspaper gathered at the Consulate General on 24 July to celebrate 30 years of the paper and the value of community journalism. 'The voice of Irish Australia' was founded at the end of 1988 and initially published as 'the Irish Exile'.
Addressing the gathering, Ireland's Ambassador to Australia, Breandán Ó Caollaí, said the Irish Echo had "stood with the community in sad times and celebrated with it in the good times". Billy Cantwell, Managing Editor of the Irish Echo, said he was immensely proud of the paper on reaching this milestone. Consul General Owen Feeney noted that it is "not often enough that we celebrate and reflect on the value of the media" and that "the Irish Echo has served our community, as a source of local news and information and in sharing news from Ireland".
The event was attended by media representatives and members of the New South Wales' Legislative Assembly, including Speaker Jonathan O'Dea MP.
https://www.facebook.com/watch/?v=2061700910800067
https://www.irishecho.com.au/