Bloomsday Celebrations 2017
News
16 June 2017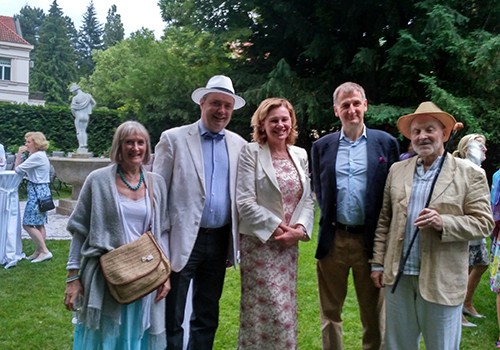 Ambassador and Mrs. Alice Sheehan hosted a garden party to celebrate Bloomsday on Friday, 16 June 2017 at the Embassy Residence.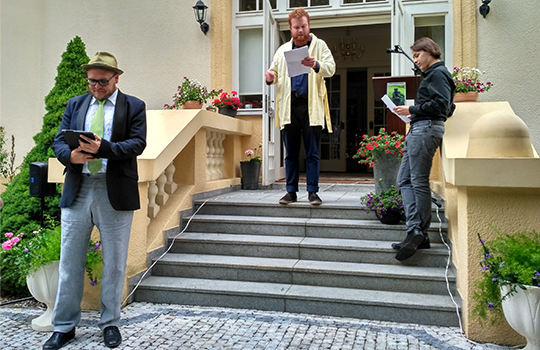 Readings from Ulysses were delivered by Ondřej Pilný, Director of the Centre for Irish Studies at Charles University, and his students. Special entry was made by Ambassador Sheehan.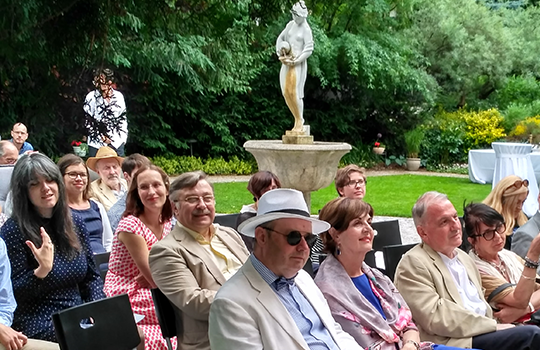 Here are a few excerpts from Ambassador Sheehan's welcome speech:
Bloomsday, the 16th of June 1904, is the day immortalised in James Joyce's Ulysses. All over the world, Bloomsday is celebrated by lovers of literature, from the most erudite Joycean scholars to those of us who love this book for its humanity and its humour.
Today, Ulysses is a centre-piece for any course of study of Irish literature, or indeed for the study of modern literature. Here in Prague, the Centre for Irish Studies at Charles University promotes the study of Irish literature and culture, particularly in its European context, with support from the Irish government. The readings this evening were organised by the Centre for Irish studies and we are very grateful to our volunteer readers from the Centre this evening.
It is a mark of the Centre's status, and especially of his stature among his peers, that the Centre's Director, Dr. Ondrej Pilny is currently Chairperson of the leading organisation in its field, the International Association for the Study of Irish Literatures. Ondrej tells me he will soon travel to Singapore for their annual congress –Japan is a powerhouse of Irish Studies and I look forward to hearing Ondrej's report on whether the balance of power in Asia is shifting, I mean from Yeats to Joyce.