Centenary of first official Irish presence in Germany
News
08 April 2021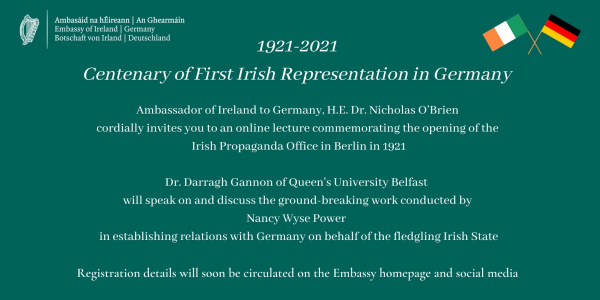 Dear friends of the Embassy Of Ireland in Germany

H.E. Ambassador Dr. Nicholas O'Brien
cordially invites you to our centenary event commemorating the opening of the first official
Irish representation in 1921 in Germany by
Nancy Wyse Power
The event will be held on
22 April 2021 at 15:00 (CEST)
We have the honour of welcoming
Dr. Darragh Gannon
of Queen's University of Belfast
as our invited guest speaker
This is an online event that will be delivered by Zoom
In 1921, the fledgling Irish State decided that it needed to amplify its voice in the great cities of the world and thus it began opening offices in various locations across the globe. One of the earliest such offices, known as an Irish Propaganda Office, was opened in Berlin in April 1921 by Nancy Wyse Power, thus making her the first official appointed in Germany by any government of Ireland.
Nancy Wyse Power's pioneering work in opening this office and her publishing the "Irisches Bulletin" was instrumental in promoting Ireland and bringing it to the attention of both the German public and the officials of the Weimar Republic. Her work laid lasting foundations for subsequent Irish missions to Germany.
To mark the centenary of the opening of the first official Irish office in Germany, Ambassador Dr. Nicholas O'Brien has invited the renowned Queen's University Belfast research fellow and scholar of Irish history from 1916 to 1923, Dr. Darragh Gannon to deliver a lecture on the life and work of Nancy Wyse Power during her time in Berlin. Dr. Gannon's lecture will commemorate and explore this significant moment in Irish-German relations and it will be live-streamed at 15:00 hrs CEST on Thursday 22 April.
This online event will be delivered via Zoom with pre-registration essential.
Registration is only possible via Eventbrite which can be accessed by clicking here.
The Zoom app video link will only be sent to those who register for the event via the link above.