John Millington Synge sesquicentenary lecture
News
08 April 2021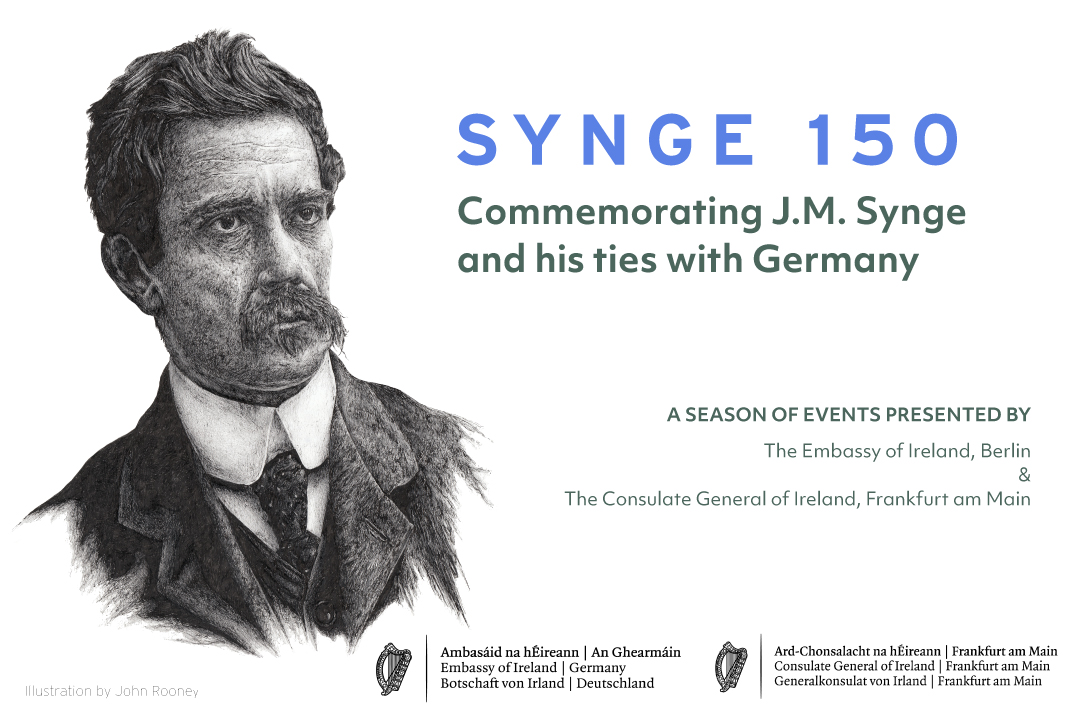 Sesquicentenary of the birth of John Millington Synge
To commemorate the 150th anniversary of the birth of Irish playwright and poet John Millington Synge the embassy commissioned this fabulous portrait of the playwright, by Berlin based illustrator John Rooney. The embassy will also host a number of Synge related events in our Synge 150 season as part of our new series Cultúr Salon.
The embassy is pleased to announce a brand new series of talks and discussions: Cultúr Salon will present stimulating multi-disciplinary themes and conversations with special guest speakers providing a space to find inspiration, to delve deeper into ideas, and to meet like-minded people with a focus on arts and culture.
The first Cultúr Salon is a part of our Synge 150 season - a colloquium on Synge will be delivered on 29 April at 19:00 CET with lectures delivered by Declan Kiberd and Dr. Catherine Wilsdon.
Declan Kiberd is Professor of Irish Studies at Notre Dame Dublin and was for many years Professor of Anglo-Irish Literature at UCD. Among his many books are "Synge and the Irish Language" (1979,1992) and "Idir Dhá Chultúr". He served on the board of the Abbey Theatre from 1999 to 2006.
His talk will consider the ways in which Synge's experience of continental radicalism was mapped onto his depiction of The Aran Islands and also in the play Riders to the Sea.
Catherine Wilsdon completed a PhD in English Literature at University College Dublin in 2016. Her research focused on J.M. Synge's travels in Europe and was supported by the Irish Research Council. She was a recipient of the Irish Research Council's New Foundations Award and the Fr. Liam Swords Fellowship which enabled her to further her research on Synge in Paris. Based in Ireland, Dr. Wilsdon works for the University of Notre Dame's Keough-Naughton Institute for Irish Studies where she manages international programmes and lectures in Irish literature.
Shortly after his graduation from Trinity College Dublin, J.M. Synge travelled to Germany where he spent two years before moving to France. He also spent some months travelling in Italy. For Synge, the years spanning 1893-1903 represented a period of exploration and experimentation. In her talk, Catherine will outline the young writer's travels in Europe and posit ways in how these experiences shaped his development as a writer.
The embassy is looking forward to welcoming you online on 29 April.
Register here to join us.