The Ambassador of Ireland - St. Patrick's Day Award for the Irish Affinity Diaspora in Germany
Announcement
12 December 2022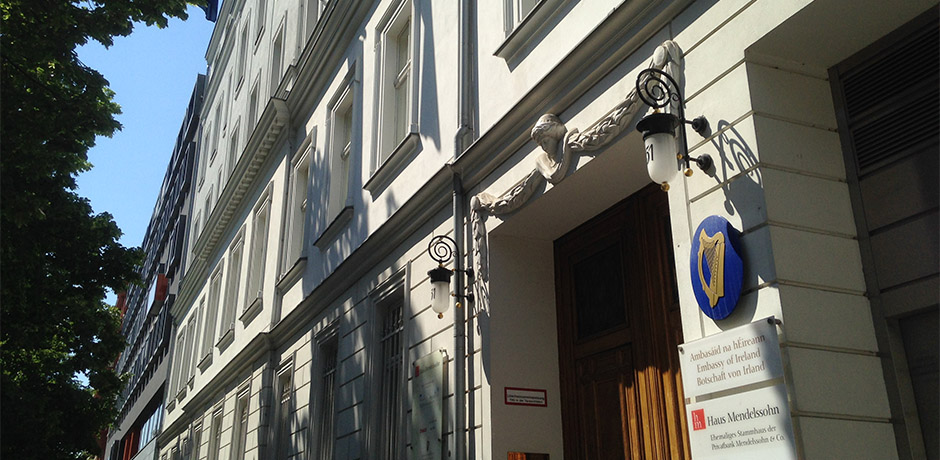 This accolade was first identified in the 2018 Review of Irish-German Relations, 'Ireland in Germany - A Wider and Deeper Footprint'.
The award recognises the contribution of individuals to the promotion of Ireland and Irish culture in Germany and the development of stronger links between the two countries.
The inaugural award was given to the renowned German painter and graphic artist René Böll. In 2022, it was awarded to the long-standing chair of the Deutsch - Irische Gesellschaft in Würzburg, Mathias Fleckenstein.
The award
is intended for our "affinity diaspora" in Germany – persons who are not themselves Irish, but who have a special affinity for Ireland and who are habitually resident in Germany.
will be given in recognition of their work promoting Ireland in Germany or for having made a sustained and distinguished impact on German-Irish relations or the Irish community in Germany.
can be granted in acknowledgement of an activity over a long period, or in response to a specific activity or event.
Nominations for the next award are open from December 12th until January 31st 2023.
If you wish to nominate someone for the award, please send an e-mail with a summary of the person's achievements, as well as a short narrative on why you think they should receive the accolade to ambofficeberlin@dfa.ie It should be noted that self-nominations are not eligible, nor are nominations of family members.
An Embassy panel, chaired by the Ambassador, Dr. Nicholas O'Brien, will consider all applications in selecting the awardee.
The outcome will be announced in early 2023 and the person selected will receive the award during the Embassy's 2023 St. Patrick's Day celebrations.