COVID 19 Travel Advice
News
04 February 2021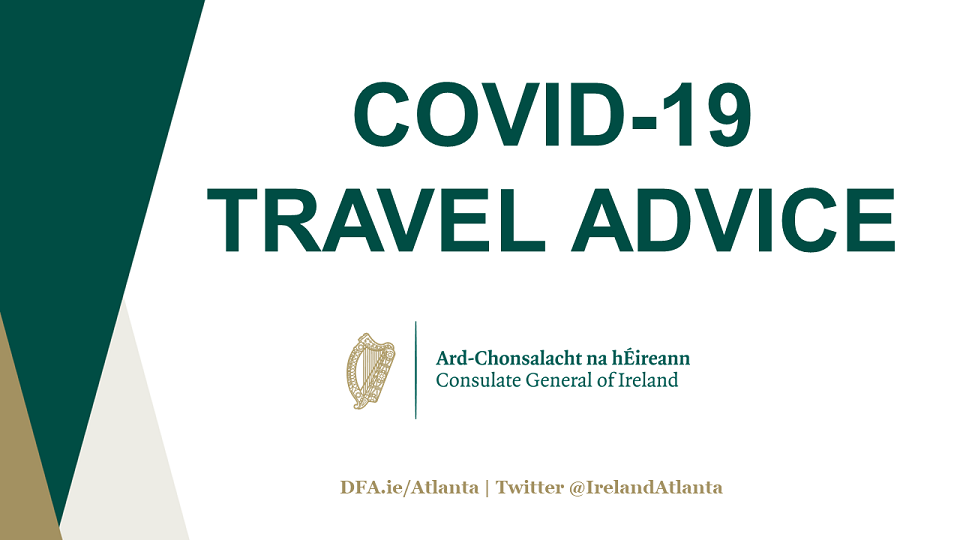 Covid-19 Travel & Consular Services Information
Updated Febuary 4 2021
Travel Requirements
The Government of Ireland continues to recommend against all non-essential travel. For up-to-date information on what to do if you are travelling to Ireland at this time, please see the Irish Government website related to 'Traveling to Ireland during the COVID-19 pandemic' (https://www.gov.ie/en/publication/b4020-travelling-to-ireland-during-the-covid-19-pandemic/).
Summary of Requirements for Entering Ireland from Abroad
Passengers from all countries arriving into Ireland are required to have a negative/'not detected' result from a pre-departure COVID-19 PCR test carried out no more than 72 hours prior to arrival in Ireland.
Passengers may be asked to present evidence of their negative/'not detected' result before boarding their airplane or ferry, and will be required to produce this evidence to Immigration Officers on arrival at points of entry to the State.
Children aged six, and under, are exempt from this requirement.
If a citizen has a genuine humanitarian emergency requiring urgent travel, they should contact the Consulate immediately for advice before commencing their journey.
Passenger Locator Form
If you are coming to Ireland from overseas you must complete a COVID-19 Passenger Locator Form. This is available online.
Quarantine Requirements
A legal requirement to quarantine has been introduced for all travellers (except if your journey originates in Northern Ireland) – with very limited exceptions.
This applies for all arrivals from 4 February 2021:
• 14-day quarantine period must be undertaken at the address specified on the Passenger Locator Form
• persons who travel from another country to Ireland, and arrive via Northern Ireland, must also observe the mandatory quarantine regime
• If you do not fulfil the legal requirement for mandatory quarantine you are committing an offence, and can be fined up to €2,500 or get a prison sentence of up to 6 months, or both.
• You may only leave your place of residence during the quarantine period for unavoidable reasons of an emergency nature to protect a person's health or welfare, or to leave the State.
• You may leave to take a RT-PCR test no less than 5 days after your arrival – if you receive written confirmation that the result of this test is negative/ 'not detected' your period of quarantine can end.
• You must retain the written confirmation of your test result for at least 14 days.
• If your journey began in South Africa or Brazil you must complete the full 14 days of quarantine – regardless of whether you have a negative test result.
Full details, including on limited exemptions, is available on the Irish Government website: https://www.gov.ie/en/publication/b4020-travelling-to-ireland-during-the-covid-19-pandemic/#
Passports
In line with the Irish Government's announcment regarding a move to Level 5 restrictions in December, which have been extended to 5 March 2021, passport processing has been paused. Currently online passport applications can be submitted, but will only be processed when restrictions are moved to Level 4.
If you require a passport application form or further information, please contact us.
As the Consulate in Atlanta does not process passport applications, please check the websites of the relevant Irish Consulate for updates and before submitting any paper application (New York for passport applications submitted from Georgia, North Carolina, South Carolina and Florida; Chicago for passport applications submitted from Alabama, Mississippi, and Tennessee).
Foreign Birth Registrations
The processing of Foreign Birth Registrations or FBRs (through which Irish citizenship can be claimed by persons with a grandparent born on the island of Ireland) is currently suspended due to Level 5 restrictions under Ireland's National Framework on Living with COVID-19.
When processing operations resume, due to the complex nature of FBR it will take between 12 to 18 months to process a completed FBR application.
Visas
The acceptance of all new visa/preclearance applications globally with the exception of those in the Emergency/Priority list is suspended as of 29th of January 2021. While it is still be possible to apply for an Irish visa/preclearance online, applicants will not be able to complete their application process.
Please note that any application made online will remain valid until such time as restrictions are lifted. You will find further updates at the website of the Immigration Service Delivery website at http://inis.gov.ie/
Priority/Emergency cases as defined on the Immigration Service Delivery website will still be processed.
For enquiries relating to priority or emergency visa applications, please visit the website of the Consulate of Ireland in New York or Chicago depending on your state of residence:
Residents of Georgia, North Carolina, South Carolina and Florida should contact the Consulate General of Ireland in New York.
Residents of Tennessee, Alabama and Mississippi should contact the Consulate General of Ireland in Chicago.
Contact Us
The Atlanta Consulate is fully operational, however the public office is closed until further notice. For all general travel and consular enquiries, please email us through the 'contact us' section or directly at atlantacg@dfa.ie.
If you are an Irish citizen in need of emergency consular assistance, you may contact the Consulate in Atlanta at +1 404 554 4980. Please leave a voicemail and your call will be returned as soon as possible if it is deemed an emergency.