Join the Embassy of Ireland & Silicon Allee on 5 April for our Irish Friday Club Start-Up Breakfast
News
28 March 2019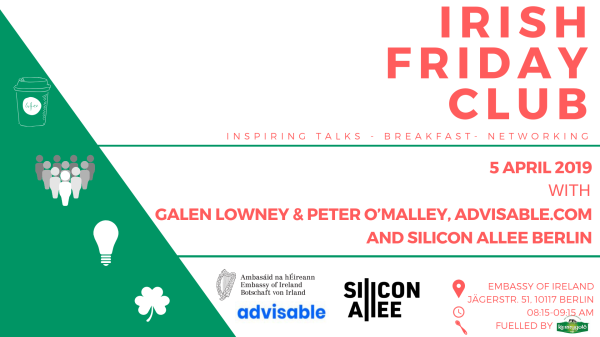 Join the Embassy of Ireland & Silicon Allee at 08.15hrs on 5 April for our Irish Friday Club Start-Up Breakfast and meet Dublin & Berlin based Advisable.com who raised €1 million in funding.
Galen Lowney and Peter O'Malley of start-up Advisable.com will share with you their story so far and Andrew Haw of Silicon Allee will provide insights on what Silicon Allee can offer to companies looking to start-up in Berlin.

Come and hear some insights into the tech start-up sector in Berlin and use the opportunity to have some breakfast and meet with some other interesting people before work.
Advisable.com
Irish-founded firm Advisable.com uses technology developed in-house to match companies with freelance marketing specialists. Advisable was founded by Peter O'Malley and Galen Lowney in 2017. Peter O'Malley is a former employee of the Web Summit and also worked with retail technology firm Pointy.com. Galen Lowney worked in M&A for Paddy Power and also as a strategy consultant for Boston Consulting Group. The company raised funding of €1 million last year largely from Frontline Ventures and a number of other angel investors. Advisable.com, which has worked with companies from SAP and Avery Dennison, to start-ups such as TravelPerk and Babbel, now has independent workers in 53 countries on its system.
Silicon Allee:

Silicon Allee® was started by entrepreneurs Schuyler Deerman and Travis J. Todd. Since 2011 the term "Silicon Allee" has become synonymous with Berlin's tech ecosystem. Silicon Allee's mission has always been to connect Berlin's tech community with the rest of the world. Silicon Allee consults companies moving to Berlin, produces internationally renowned events in the city and continue to produce valuable content to promote and provide deeper insights into the local tech economy. In 2016, Silicon Allee joined Factory to build a working, living and event space for the vibrant startup community in the center of Berlin. The campus opened the campus in January of 2017 with a stellar group of international and local technology companies in residence, including Stripe, Zenloop, The Family, Point Nine Capital and Here.