Ambassador Finbar O'Brien presented his credentials to H.E. President Y.K Museveni
News
07 November 2017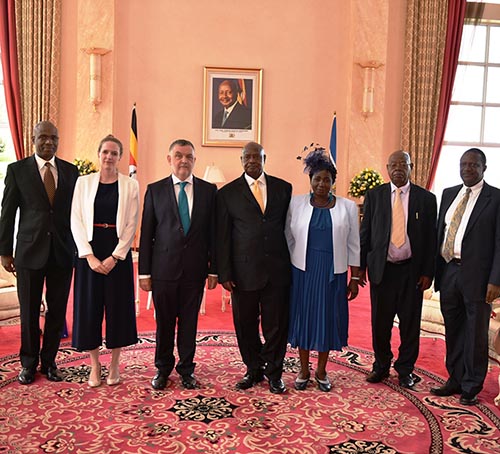 Amb. O'Brien talking with H.E. President Y.K Museveni
On 7 November 2017, Ambassador Finbar O'Brien presented his credentials to H.E. President Y.K Museveni in a two part ceremony taking place in Kampala and Entebbe.
Ambassador O'Brien first inspected a guard of honour at Kololo Airstrip in Kampala, where he was greeted by the Uganda Police Band playing 'Amhrán na bhFiann'. At State House in Entebbe, Ambassador O'Brien was warmly welcomed by H.E. President Museveni and presented his letters of credential.
Following celebratory toasts, Ambassador O'Brien presented a gift to the President, a book on the history of Ireland told through historical objects.
The ceremony was also attended by the Ministry of Foreign Affairs Permanent Secretary, Mr Patrick Mugoya and the State Minister for Regional Affairs, Philemon Mateke.