GreenLight: New York Consular Region
News
04 October 2022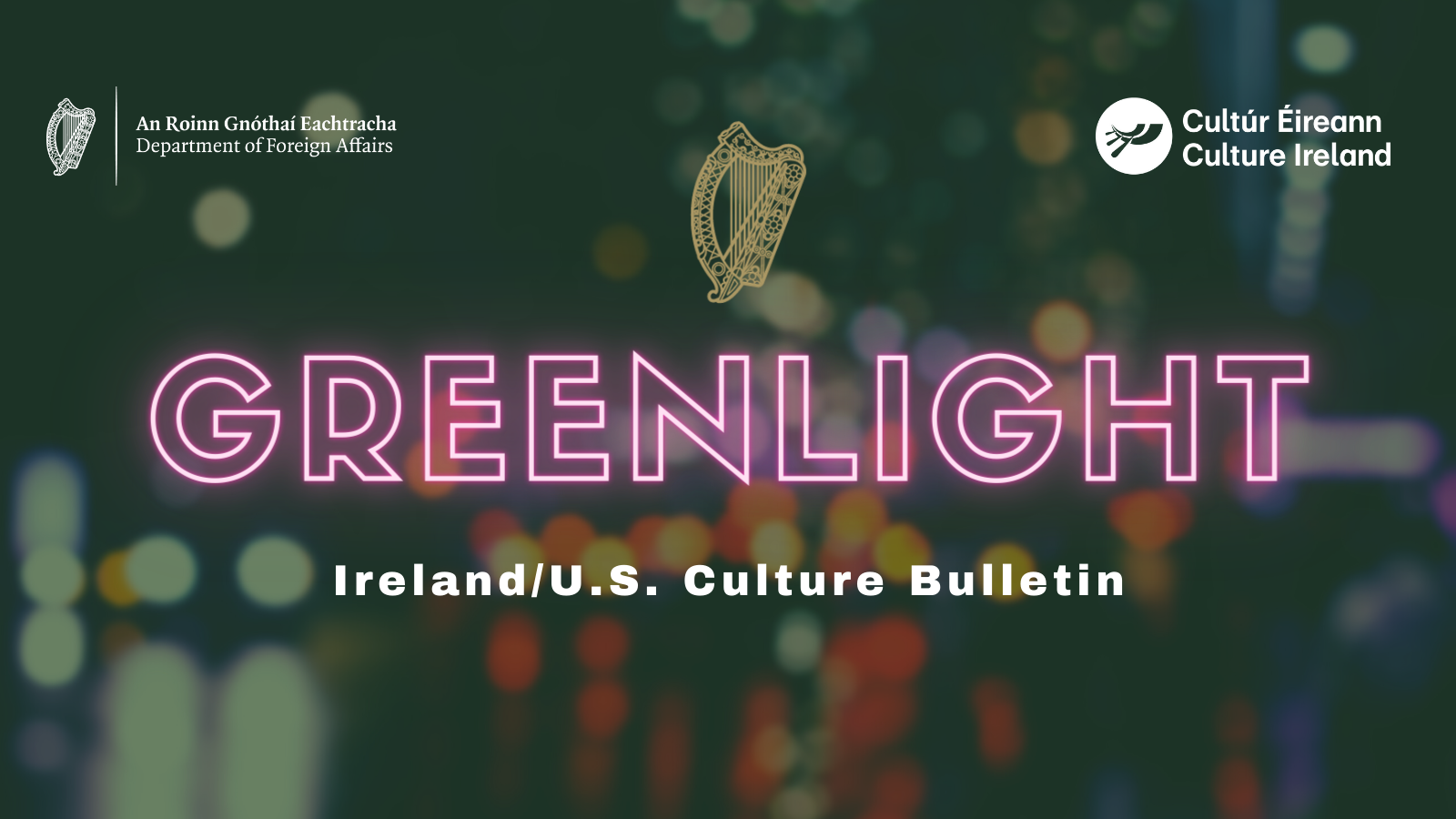 See below some of the fantastic upcoming events showcasing Irish culture in New York and the surrounding region (Connecticut, Delaware, New Jersey, Ohio, and Pennsylvania)—as featured in the DFA/Culture Ireland GreenLight Bulletin!
12 October: Real-life father and son Reed Birney and Ephraim Birney star as World War II doctor and patient in the New York premiere of Joseph Dougherty's Chester Bailey, playing at Irish Repertory Theatre through 13 November.
12 October: The New York Film Festival celebrates the 50th anniversary of the Russian cult film Solaris with live accompaniment from Irish composers Matthew Nolan and Stephen Shannon, whose new score was supported by a commission award from the Arts Council of Ireland.
12 October: New York Irish Center presents a staged reading of award-winning playwright Seanie Sugrue's Ballybunion Backs Bill, as part of their Theatre Tonight series.
17 October: 'Master of the macabre' John Connolly launches his latest Charlie Parker novel, The Furies, with a reading at the Mysterious Bookshop in Tribeca.
19 October: Obie award-winning Irish theatre company Dead Centre returns to New York with Chekhov's First Play, a playful deconstruction of the writer's earliest text, at Irish Arts Center through 6 November.
19 October: Documentary photographer Sean McKernan's retrospective exhibit, 'Belfast: Conflict to Peace' opens at New York Irish Center and runs through 25 October, with support from Culture Ireland.
21–23 October: The Irish Network USA's 2022 Conference takes place in Cleveland, Ohio.
24 October: Irish American Writers & Artists' annual Eugene O'Neill Award Gala honours writer, musician and activist Larry Kirwan. Tickets include dinner, open bar and a year's membership to the organization.
25 October: George Bernard Shaw's pithy romantic comedy Candida, produced by the Gingold Theatrical Group, opens on Theatre Row following three weeks of previews, and runs through 19 November.
27 October: Gabriel Byrne's one-man autobiographical play, Walking with Ghosts, opens on Broadway, following a run at the Gaiety Theatre in Dublin.
27 October: New York Irish Center hosts a screening of the documentary film How to Diffuse a Bomb: The Project Children Story, followed by a reception with founder Denis Mulcahy.
28–30 October: Dublin-based fine art print studio exhibits at the IFPDA Print Fair at the Javits Center.
29 October: Irish singer, songwriter and producer Enda Gallery returns to New York Irish Center for a full-length concert, following his hit appearance at St Patrick's Day in the '40 Shades of Green' cabaret show.
2 November: Playwright and performer David Gilna presents A Bolt from D'Blue at the Greek Cultural Center in Astoria, followed by performances at An Beal Bocht Café in the Bronx (3 November) and the Kerry P&B Association in Yonkers (4 November).
11–13 November: The Straight Out of Ireland exhibit in Bryn Mawr, Pennsylvania, features the work of 25 Irish artists and 10 American artists inspired by contemporary Ireland. Proceeds from the event will benefit the Irish Diaspora Center of Greater Philadelphia.
14 November: Bilingual writer and performer Manchán Magan returns to Irish Arts Center as part of November's iteration of Muldoon's Picnic, alongside singer-songwriter James Maddock, poet Dora Malech and house band Rogue Oliphant.
17–19 November: Indian classical and Irish traditional music come together in Ragas to Reels at Irish Arts Center, a special presentation featuring raga and jazz pianist Utsav Lal alongside a host of collaborators.
20 November: Dublin-based theatre company Pan Pan returns to New York with the U.S. premiere of Gina Moxley's The Patient Gloria, a subversive take on the psychotherapy of the 1960s, which runs at St. Ann's Warehouse through 4 December.
Subscribe to the GreenLight newsletter and share with your friends.