A Warm Welcome Back for St Patrick's Day Festivities
News
24 March 2022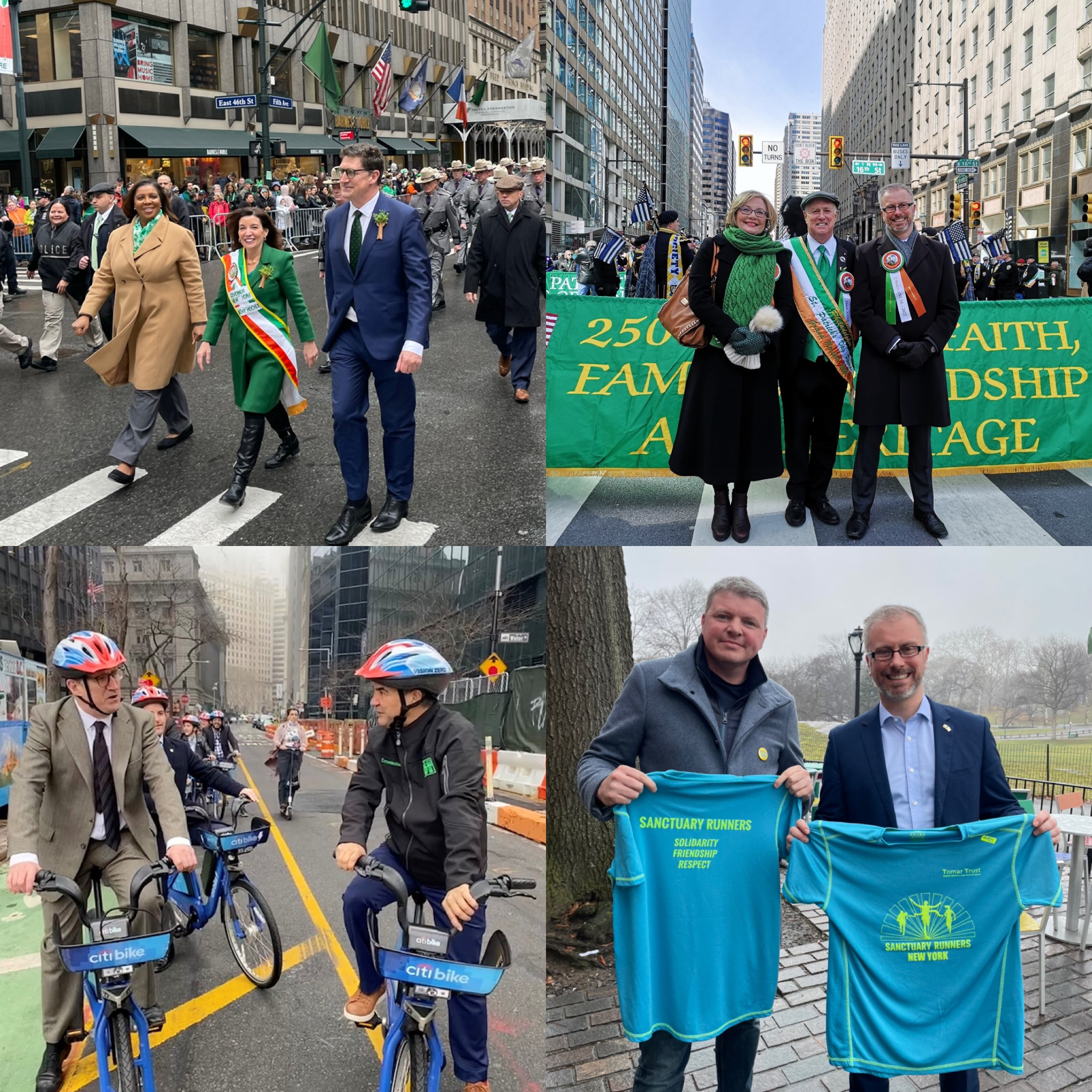 "New York City is back," declared Mayor Eric Adams on St Patrick's Day, and the enormous crowds that lined 5th Avenue on 17 March demonstrated just how happy New Yorkers are to return to honouring the city's Irish heritage with in-person events.
The Consulate General was delighted to host visits from Minister Eamon Ryan TD and Minister Roderic O'Gorman TD for official St Patrick's Day programmes in Philadelphia and New York this year. The visits included a wide array of community, business, cultural and political elements and we are grateful to all who helped us welcome the Ministers to these two great cities.
In Philadelphia, Minister O'Gorman participated in a wide range of UN engagements and had meetings with organisations including the Emerald Isle Immigration Center, the Coalition of Irish Immigration Centers and Sanctuary Runners.
The Minister was delighted to launch the American Chamber of Commerce in Ireland's 2022 Annual report at the Consulate, to address the Ireland INC Leadership Day at the New York Stock Exchange and to re-launch Bank of Ireland's "start-up lab" in New York. He also addressed the St Patrick's Day Foundation Gala Dinner, where he met Governor Kathy Hochul, and joined in the Irish Arts Center's annual Book Day, where thousands of books were given out free to New Yorkers. Minister O'Gorman had the opportunity to meet with several members of Congress over the course of his visit.
Minister Eamon Ryan's first engagements in New York included addressing the Ireland-US Council St Patrick's Day Lunch and the Irish Funds Seminar on the eve of St Patrick's Day. The next day he was hosted by Mayor Eric Adams at the annual breakfast in Gracie Mansion, before addressing the Irish Chamber of Commerce USA Breakfast, attending Mass at St Patrick's Cathedral and marching in the parade down 5th Avenue, alongside Governor Kathy Hochul and Attorney General Letitia James. Before the day was out, he launched Tourism Ireland's Green Button billboard display which lit up Times Square.
Minister Ryan also had the opportunity to meet with New York City and State leaders to discuss the work they are doing on climate and transport, which fall within his government portfolio. Minister Ryan and New York City Transport Commissioner Ydanis Rodriguez made a site visit to the latest cycling infrastructure at the hardened cycle path on Broadway and, after a short cycle, their teams discussed the investments Ireland and New York City are making in cycling infrastructure.
Seperately, Minister Ryan launched a Policy Dialogue on Climate Action (PDCA) with the State of New York, enabling Ireland and New York to share experiences in carbon emissions reductions. Minister Ryan co-signed a Memorandum of Understanding establishing the PDCA with Basil Seggos, New York State Environmental Conservation Commissioner and Doreen Harris, President of the New York State Energy Research and Development Authority at a ceremony at the Consulate General.
On his last day, Minister Ryan met representatives of City Swift, an innovative Irish company pioneering smart technology solutions for the Metropolitan Transportation Authority (MTA) and addressed a community reception hosted by Consul General Helena Nolan.
With thanks to everyone who helped make these events happen, above are pictures from some of the highlights of their visits.