Joint Committee on Foreign Affairs and Defence Visits New York
News
25 May 2022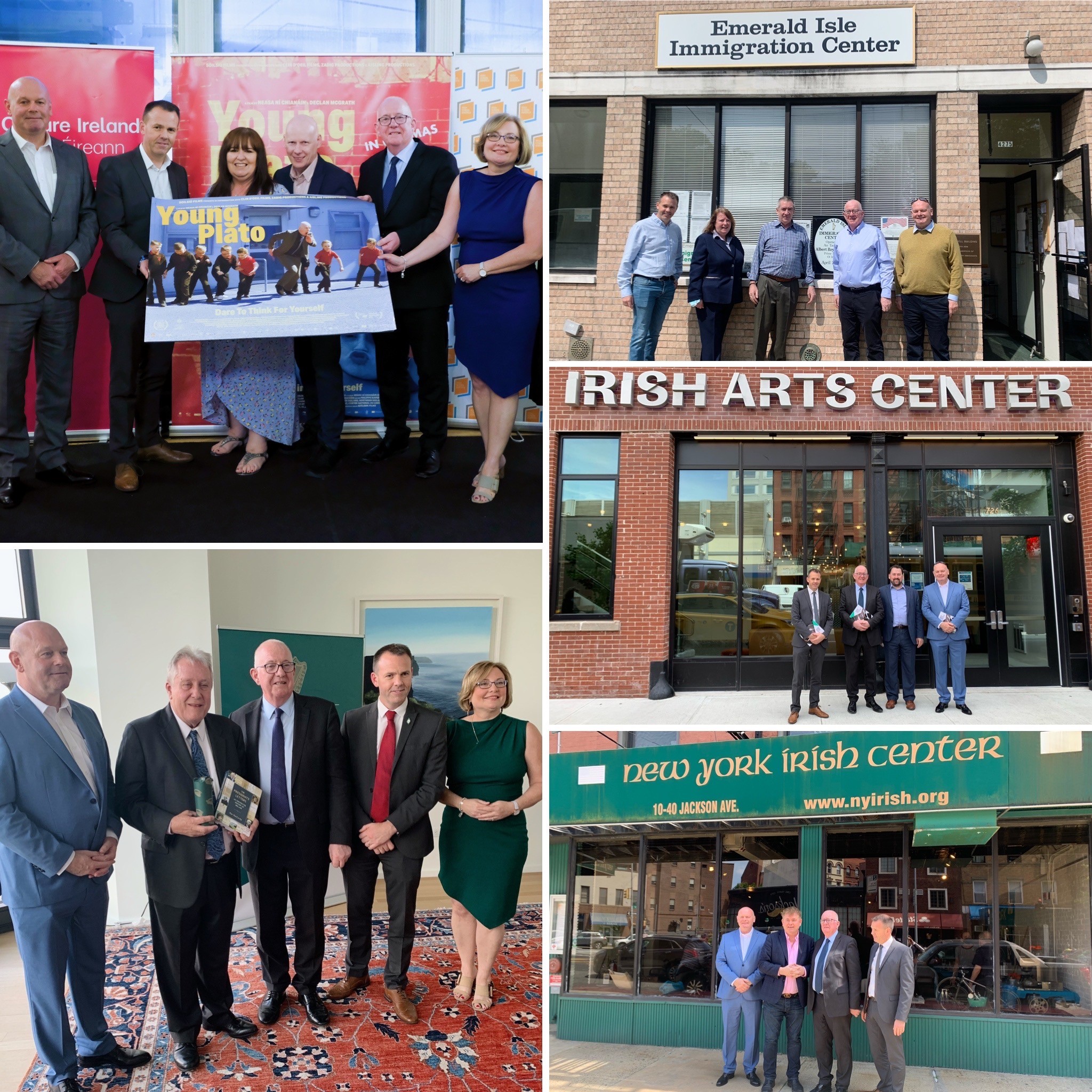 On Tuesday, 17 May, a delegation from the Oireachtas Joint Committee on Foreign Affairs and Defence, including Committee Chair Charlie Flanagan T.D., John Brady T.D. and Senator Diarmuid Wilson, travelled to New York for a programme of engagements.
The delegation first attended a special screening of Young Plato, a documentary film that tells the story of primary school headmaster Kevin McArevey in Belfast's Ardoyne housing estates, who invokes the wisdom of the ancient Greek philosophers to empower and encourage children to see beyond the boundaries and limitations of their own community. The evening at New York City's Angelika Theater was co-sponsored by the Consulate-General of Ireland, the Northern Ireland Bureau, the Delegation of Flanders in New York and the British Consulate-General in New York, and was attended by Headmaster McArevey and Deputy Head Jan-Marie Reel.
On Wednesday, the delegation toured the new Irish Arts Center with Executive Director Aidan Connolly and Barry O'Séanáin, the Associate Director of Development and Special Programs. Later, the group travelled to Long Island City to attend the New York Irish Center's Seniors' Lunch, where they toured the facility with Director George Heslin, Director of Social Care Ryan McNally and Rebecca Skedd of Solace House.
That evening, Consul General Helena Nolan hosted the delegation and local community leaders for a reception in honour of former New York City Councilman Danny Dromm for his leadership, service, and advocacy for the Irish-American community.
The Joint Committee travelled to the United Nations headquarters on Thursday for a programme of UN-led events, including a meeting on Global Diaspora Engagement, a debate in the UN Security Council on Conflict and Food Security, and a meeting with the United Nations Population Fund (UNFPA).
On Friday, 20 May, the delegation visited the Emerald Isle Immigration Center in the Bronx for a briefing by Siobhán Dennehy, EIIC Director, and John Stahl, Director of Legal Services at EIIC, on immigration issues facing the Irish-American community in New York.
-
For queries, contact Aisling.McDonagh@dfa.ie.