Minister of State Colm Brophy Re-Launches Global Irish Festival Series in New York
Press release
21 April 2022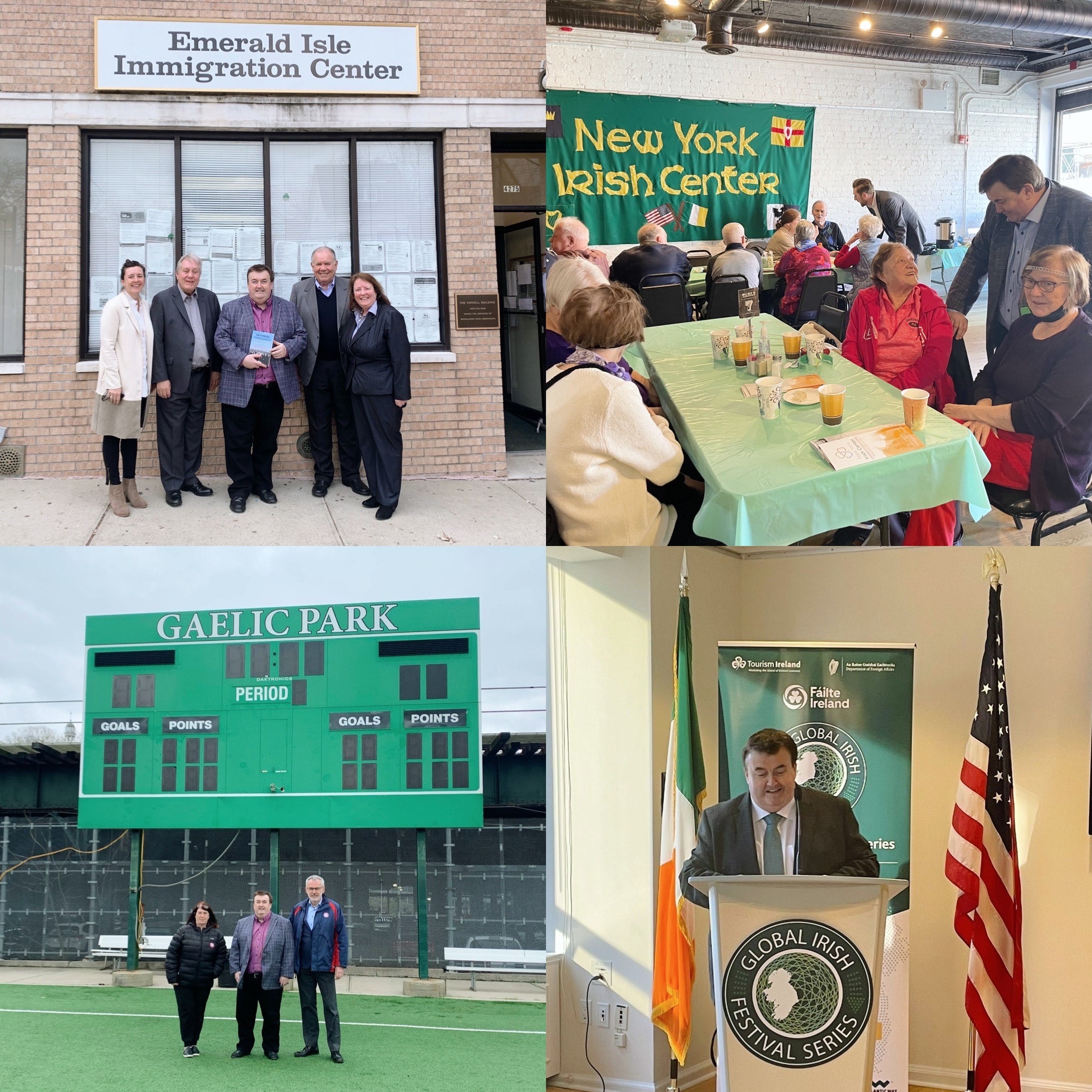 Minister of State for Overseas Development Aid and Diaspora, Mr. Colm Brophy T.D. undertook a two-day visit to New York on Monday 18 April as part of a series of stops across North America to meet with Irish-American communities and to highlight the return of the Global Irish Festival Series.
The Minister's visit was an opportunity to engage with Irish-America in the wake of the Covid pandemic and to see firsthand the special community-based support measures put in place through the Irish Government's Emigrant Support Programme. The Minister met with representatives from the Emerald Isle Immigration Center in the Bronx, the Aisling Community Center in Yonkers, and the New York Irish Center in Queens. He also met with Solace House, a crisis support agency, which provides counselling services for Irish across the New York area.
GAA President, Larry McCarthy, and New York GAA Chairperson, Joan Henchy, welcomed the Minister to Gaelic Park in the Bronx on Tuesday, where they discussed the growth of the GAA in New York. GAA representatives also outlined their long-term plans for the future development of Gaelic Park.
On Wednesday, Minister Brophy promoted Ireland as the place to visit this year by launching Fáilte Ireland's Global Irish Festival Series at the Consulate General in New York. The series places Ireland's counties at the centre of an effort to connect with their diasporas, and to build new relationships and ties that can boost tourism opportunities in each of Ireland's counties.
Addressing guests at the launch of the Global Irish Festival Series on Wednesday, Minister Brophy said:
"Festivals play a key role in delivering memorable visitor experiences and providing both overseas and domestic visitors with a unique reason to choose a destination. This year, the Global Irish Festival Series takes place along the Wild Atlantic Way and it is wonderful to see its return after a two-year gap."
Speaking following his meeting with representatves from diaspora organisations, Minister Brophy praised their efforts to support communities across the New York area:
"Our links with our Irish communities abroad are vital and it is important that we support the bonds of heritage and affinity, retaining the relationship between Ireland and her diaspora," he said, adding:
"I have in the past two days visited Irish Centres in Yonkers, the Bronx and Queens, and I have seen first-hand the vital work which they are able to undertake with the support of the Government's Emigrant Support Programme."
Minister Brophy continues his visit onwards to Atlanta, Georgia.
ENDS
For queries, contact Andrew.Byrne@dfa.ie.