Three Northern Irish Women Writers on Tour This November
News
01 November 2023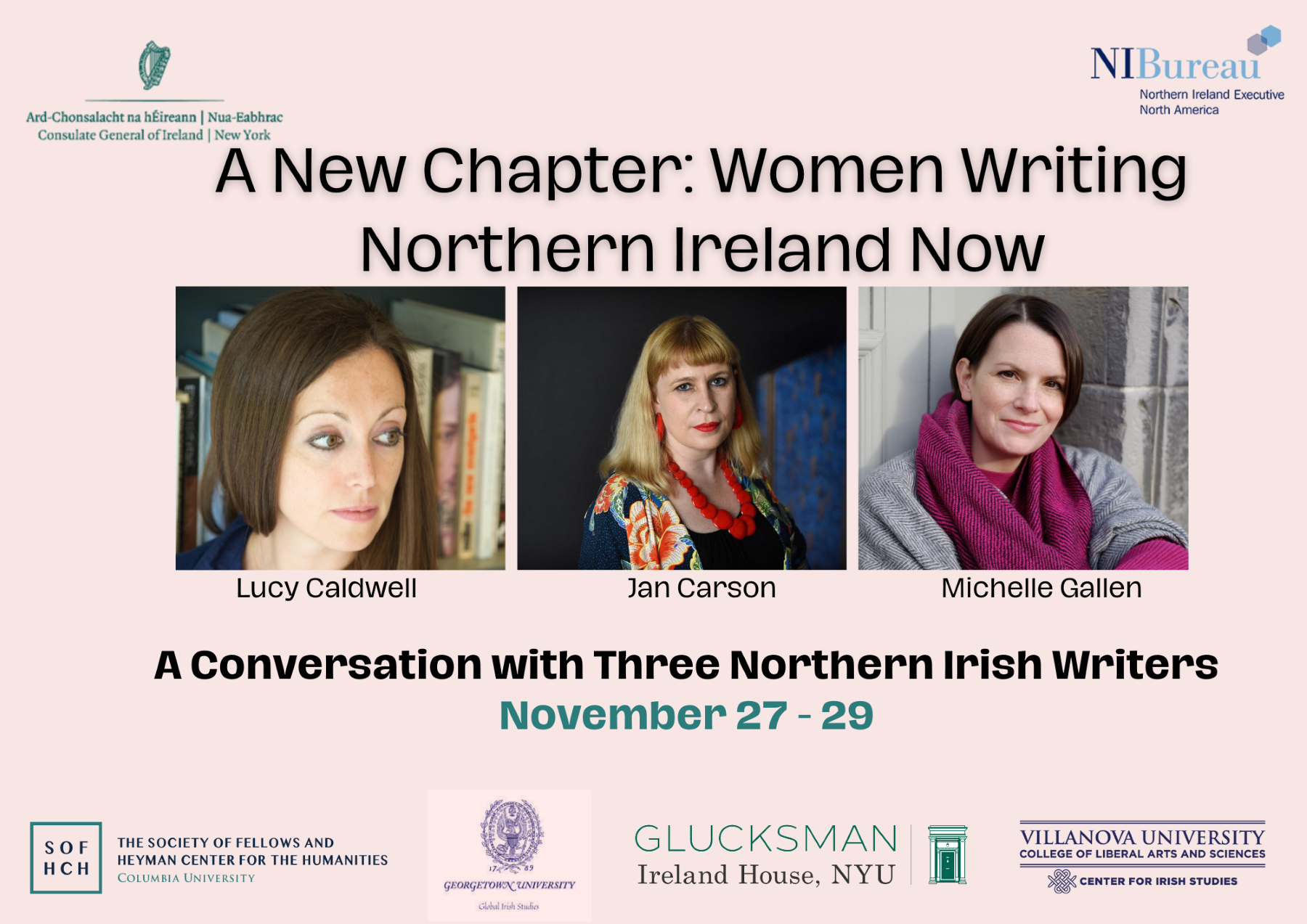 Three Northern Irish Women Writers on Tour This November
The Consul General of Ireland in New York is delighted to welcome Northern Ireland authors Lucy Caldwell, Jan Carson and Michelle Gallen to the East Coast in November for 'A New Chapter: Women Writing Northern Ireland Now', an ambitious 3-city tour in partnership with Columbia University, NYU, Georgetown and Villanova, supported by the Northern Ireland Bureau.
The tour, presented as part of the Consulate's commemorations of the 25th Anniversary of the Good Friday Agreement, will see the writers in conversation at Columbia University with Caoilinn Hughes and Stephanie McCurry on Monday November 27, at Villanova University on Tuesday November 28, and at an event at Georgetown University in partnership with Solas Nua on Wednesday November 29. There are additional events that have been added, including Lucy Caldwell and Michelle Gallen will take part in a literary event in Boston and will take part in the 14th Annual Poetry Fest in New York on Friday December 1 while Jan Carson will present a reading in Syracuse on Tuesday December 5.
Dates & Venues
Mon November 27: Columbia University's Society of Fellows and Heyman Center for the Humanities will be hosting the three authors for a conversation from 6:15 to 8 pm in the Joseph D. Jamail Lecture Hall, Journalism School. The link to the event registration page can be found here.
Tues November 28: The Villanova Center for Irish Studies will be running a literary panel discussion and readings about women's rights and sectarian division in Northern Ireland with Lucy Caldwell, Jan Carson, and Michelle Gallen at 6 pm in the Mullen Center's Topper Theater. This event is co-sponsored by the Anne Welsh McNulty Institute for Women's Leadership and supported by various departments within Villanova and St. Joseph University's Irish Studies program. The link to the event registration page can be found here.
Wed November 29: Georgetown University will be hosting a readings and conversation event at 6 pm in the ICC Auditorium at Georgetown University's Intercultural Center. The link to the event registration page and directions can be found here.
Fri December 1: Lucy Caldwell and Michelle Gallen will read from their works at a lunch hosted by the Consul General of Ireland in Boston before traveling back to New York to take part in Favourite Poems at the 14th Annual Poetry Fest at Irish Arts Center.
Tue December 5: Jan Carson will read at LeMoyne College in Syracuse. Details here.
About the Authors
Lucy Caldwell, who was born in Belfast, is the author of four novels, several stage plays and radio dramas, two collections of short stories, Multitudes and Intimacies, with a third, Openings, forthcoming in 2024, and is the editor of Being Various: New Irish Short Stories (Faber, 2019). Her most recent novel, These Days, won the 2023 Walter Scott Prize for Historical Fiction.
Jan Carson is a writer and community arts facilitator based in Belfast. Her first novel, Malcolm Orange Disappears, was published in 2014 followed by a short-story collection, Children's Children (2016), and two Postcard Stories anthologies. Her other novels include Fire Starters (2019), and The Raptures (2022) and has an upcoming short story collection being published in Spring 2024.
Michelle Gallen's debut novel, Big Girl, Small Town was shortlisted for the Costa First Novel Award and is currently being adapted for TV by the BBC production company, Lookout Point. Her critically acclaimed second novel, Factory Girls, won the Comedy Women in Print award and is currently being adapted for television by Deadpan Pictures.