Minister McEntee Promotes Ireland as a Destination for Legal Services
News
26 September 2022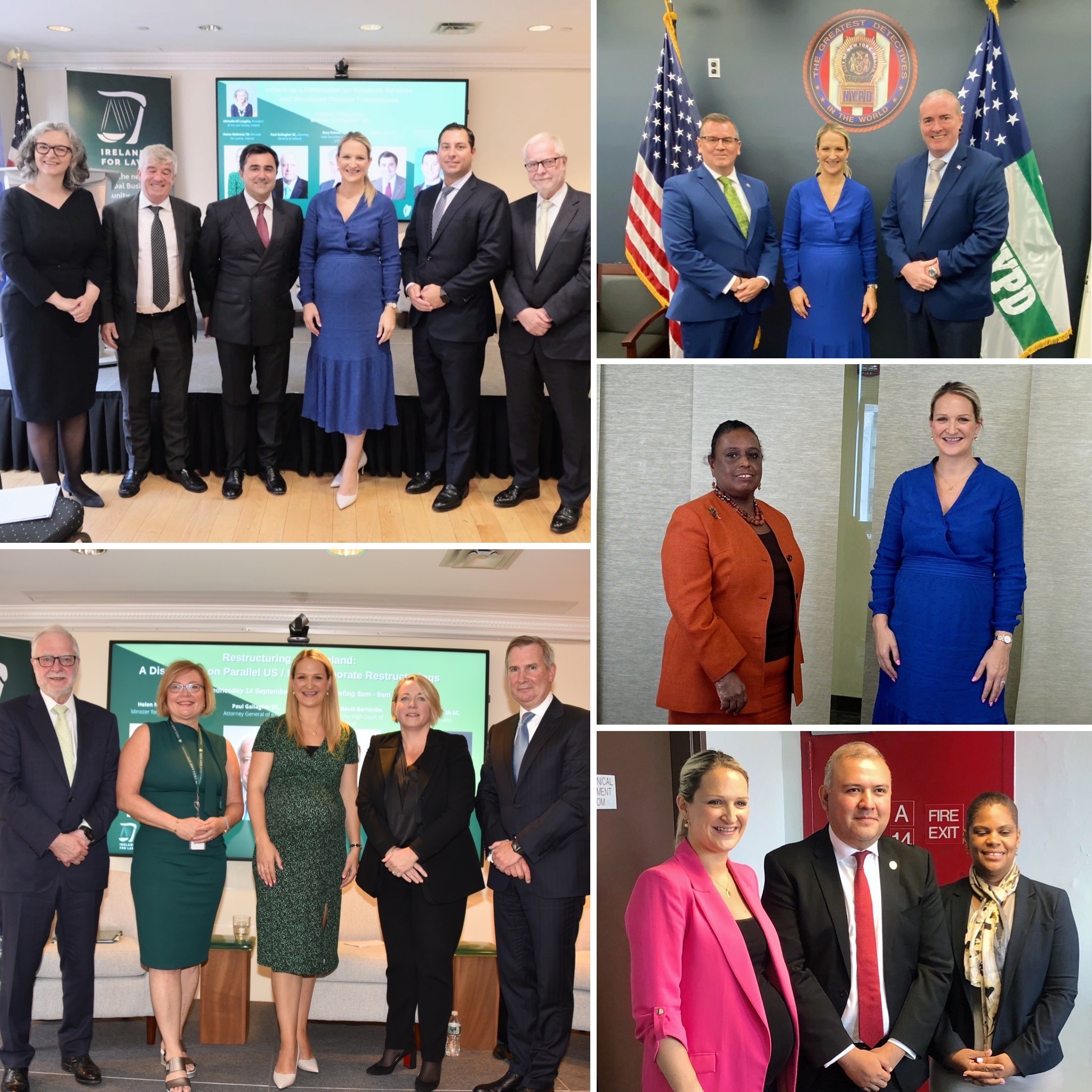 The Consulate recently welcomed Minister for Justice Helen McEntee for a three-day programme of events with key legal organisations and law enforcement agencies in New York City.
On Wednesday 14 September, the Consulate hosted an Ireland for Law event on corporate restructuring and insolvency, where Minister McEntee introduced a panel discussion with Attorney General Paul Gallagher SC and President of the High Court, Mr Justice David Barniville, moderated by Kelley Smith SC. In the evening, Minister McEntee joined Arbitration Ireland for a New York Chapter event featuring a panel of legal experts from the United States and Ireland.
On Thursday 15 September, Minister McEntee introduced a second Ireland for Law panel discussion on Ireland as a destination for Financial Services. The Minister then met with members of the New York Police Department's Hate Crimes Task Force to discuss actions taken in Ireland and in New York City to combat hate crimes. In addition, Minister McEntee met Cecile Noel, the Commissioner of the New York City Mayor's Office to End Domestic and Gender-Based Violence, to share best practices and to tour the Manhattan Family Justice Center.
Consul General Helena Nolan hosted Minister McEntee and a diverse group of Irish female lawyers based in New York for a working lunch, where each woman shared her experience in the legal field.
On Friday 16 September, Minister McEntee completed her visit to New York by meeting with Manuel Castro, the Commissioner of the New York City Mayor's Office of Immigrant Affairs, and Miosotis Muñoz, the Deputy Commissioner of the New York City Mayor's Office of External Affairs, where they exchanged views regarding the handling of Ukrainian refugees as a result of the Russian war on Ukraine, as well as policy as it relates to long-term asylum seekers.
For inquiries, contact Aisling.McDonagh@dfa.ie.