Courtesy visit of Ambassador Dr. Nicholas O'Brien to Hamburg on 7 February 2022
News
15 February 2022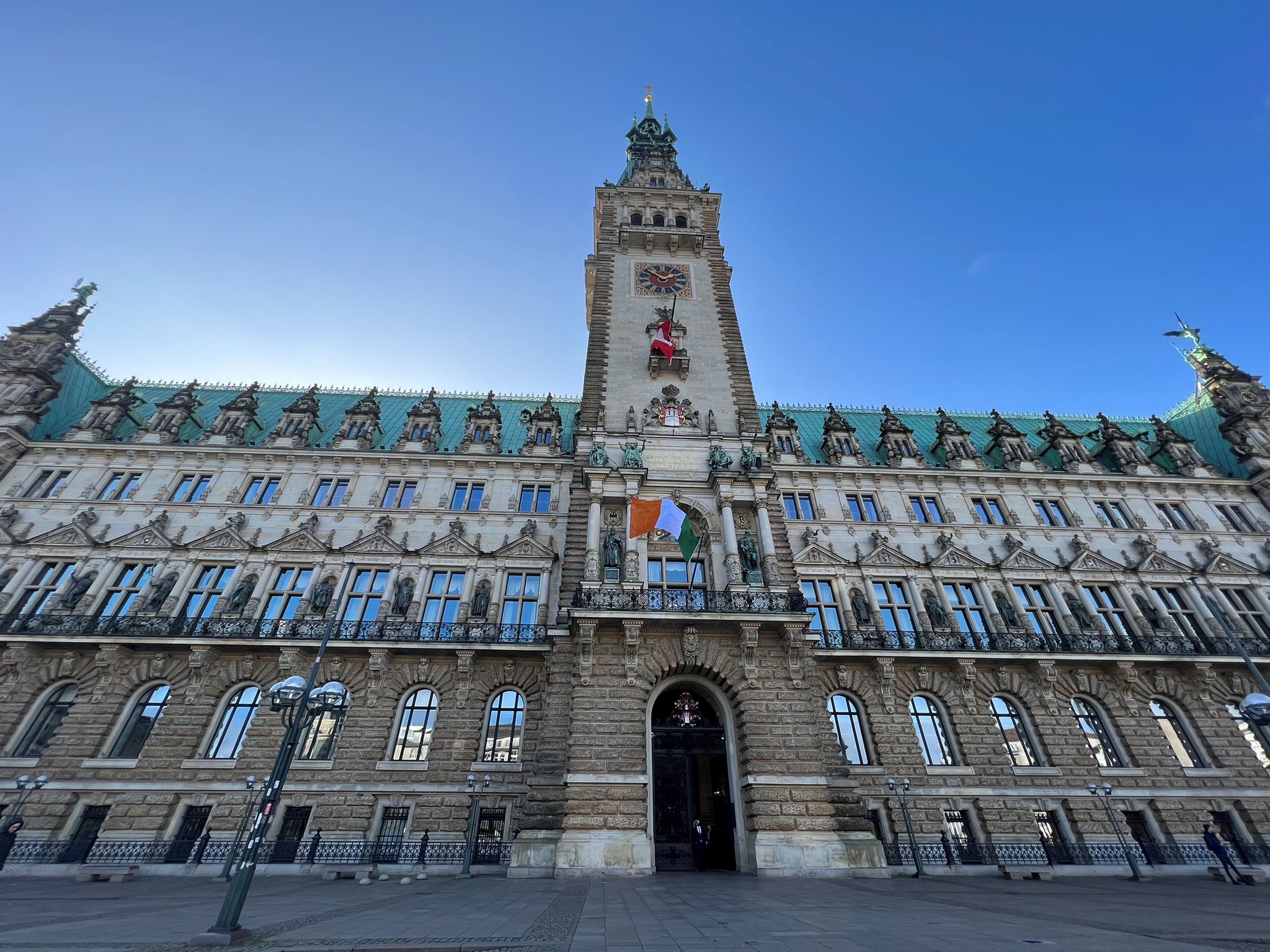 The historic city hall of Hamburg (Hamburger Rathaus) on 7 February 2022
Official courtesy visit of Ambassador Dr. Nicholas O'Brien to the
Free and Hanseatic City of Hamburg on 07 February 2022
Ambassador O'Brien's visit was in the spirit of continuing to widen and deepen Ireland's footprint in Germany and the further strengthening of mutually beneficial ties between Ireland and Hamburg. The Embassy of Ireland in Berlin - in cooperation with the Senatskanzlei Hamburg - arranged for Ambassador Dr. Nicholas O'Brien to officially meet and hold discussions with Hamburg's First Mayor Dr. Peter Tschentscher. The engagement confirmed the already strong relations whilst underlining the great potential for building on these further in the economic and cultural spheres and expanding cooperation in various other sectors.
This engagement was followed by a meeting with the Speaker of the Hamburgische Bürgerschaft (City Parliament), Ms. Carola Veit. In a brief and constructive exchange, both underlined the importance of fostering the dynamic connections, which bind Hamburg and Ireland together. Ambassador O'Brien was also invited and had the honour of signing the official guest book of the Bürgerschaft and was later given a guided tour though the Hamburg Rathaus (City Hall); a building renowned for its rich historical architecture and magnificent presence in the city centre.
The visit to Hamburg also allowed for Ambassador O'Brien to meet with Dr. Malte Heyne, General Director of the Hamburg Chamber of Commerce to discuss ways in which the Hamburg – Ireland trading relationship might be further enhanced and further collaborative projects may be undertaken.
-------------------------------------------------------------------------------------
Offizieller Antrittsbesuch des Botschafters von Irland, Dr. Nicholas O'Brien,
in der Freien und Hansestadt Hamburg am 7. Februar 2022
Der Besuch von Botschafter O'Brien stand im Zeichen des weiteren Ausbaus und der Vertiefung der irischen Präsenz in Deutschland sowie der weiteren Stärkung der für beide Seiten vorteilhaften Beziehungen zwischen Irland und Hamburg. Die irische Botschaft in Berlin arrangierte in Zusammenarbeit mit der Senatskanzlei Hamburg ein offizielles Treffen und Gespräch zwischen Botschafter Dr. Nicholas O'Brien und Hamburgs Erstem Bürgermeister Dr. Peter Tschentscher. Das Treffen bestätigte die bereits starken Beziehungen und unterstrich das große Potenzial, diese in den Bereichen Wirtschaft und Kultur weiter auszubauen und die Zusammenarbeit in verschiedenen anderen Sektoren zu erweitern.
Im Anschluss an das Gespräch fand ein Treffen mit der Sprecherin der Hamburgischen Bürgerschaft, Frau Carola Veit, statt. In einem kurzen und konstruktiven Austausch unterstrichen beide, wie wichtig es ist, die dynamischen Verbindungen, die Hamburg und Irland miteinander vereinen, zu fördern. Botschafter O'Brien hatte darüber hinaus die Ehre, sich in das offizielle Gästebuch der Bürgerschaft einzutragen. Später erhielt er eine Führung durch das Hamburger Rathaus, ein Gebäude, das für seine reiche historische Architektur und seine prächtige Präsenz im Stadtzentrum bekannt ist.
Der Besuch in Hamburg wurde abgerundet durch ein Treffen mit Dr. Malte Heyne, dem Hauptgeschäftsführer der Handelskammer Hamburg, um Möglichkeiten zu erörtern, wie die Handelsbeziehungen zwischen Hamburg und Irland weiter ausgebaut und weitere gemeinsame Projekte durchgeführt werden könnten.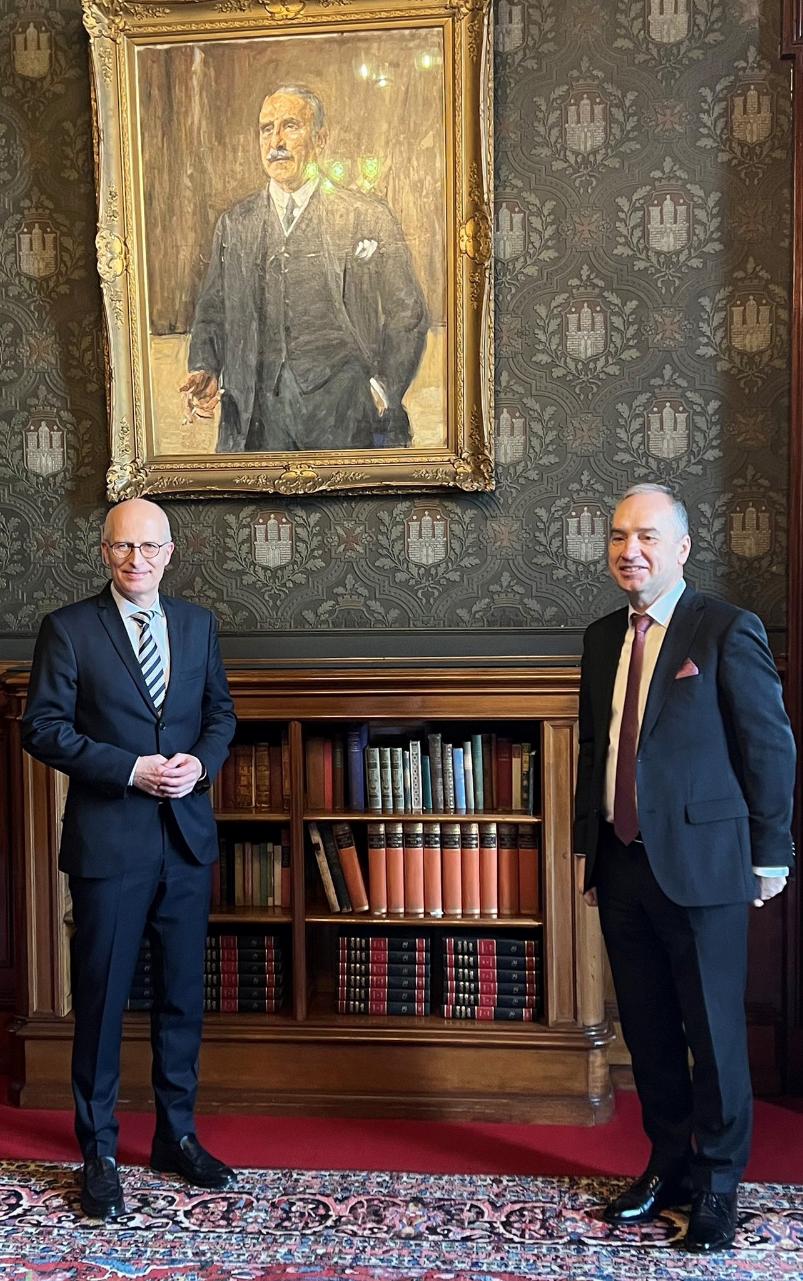 The First Mayor of the Free and Hanseatic City of Hamburg, Dr. Peter Tschentscher, together with the Ambassador of Ireland, Dr. Nicholas O'Brien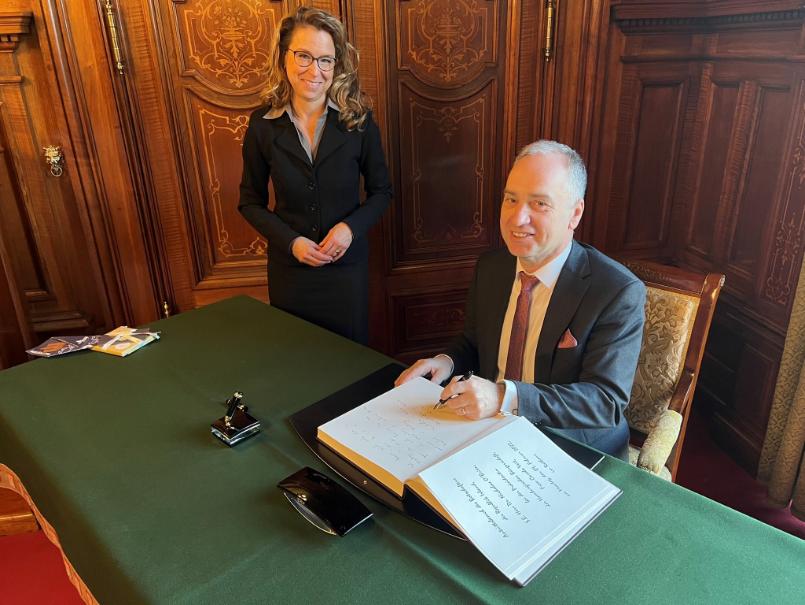 The Speaker of the Hamburgische Bürgerschaft, Ms. Carola Veit, and the Ambassador of Ireland, Dr. Nicholas O'Brien, during the signing of the official guest book of the Hamburgische Bürgerschaft