Ireland and The State of New York Launch Policy Dialogue on Climate Action
Press release
23 March 2022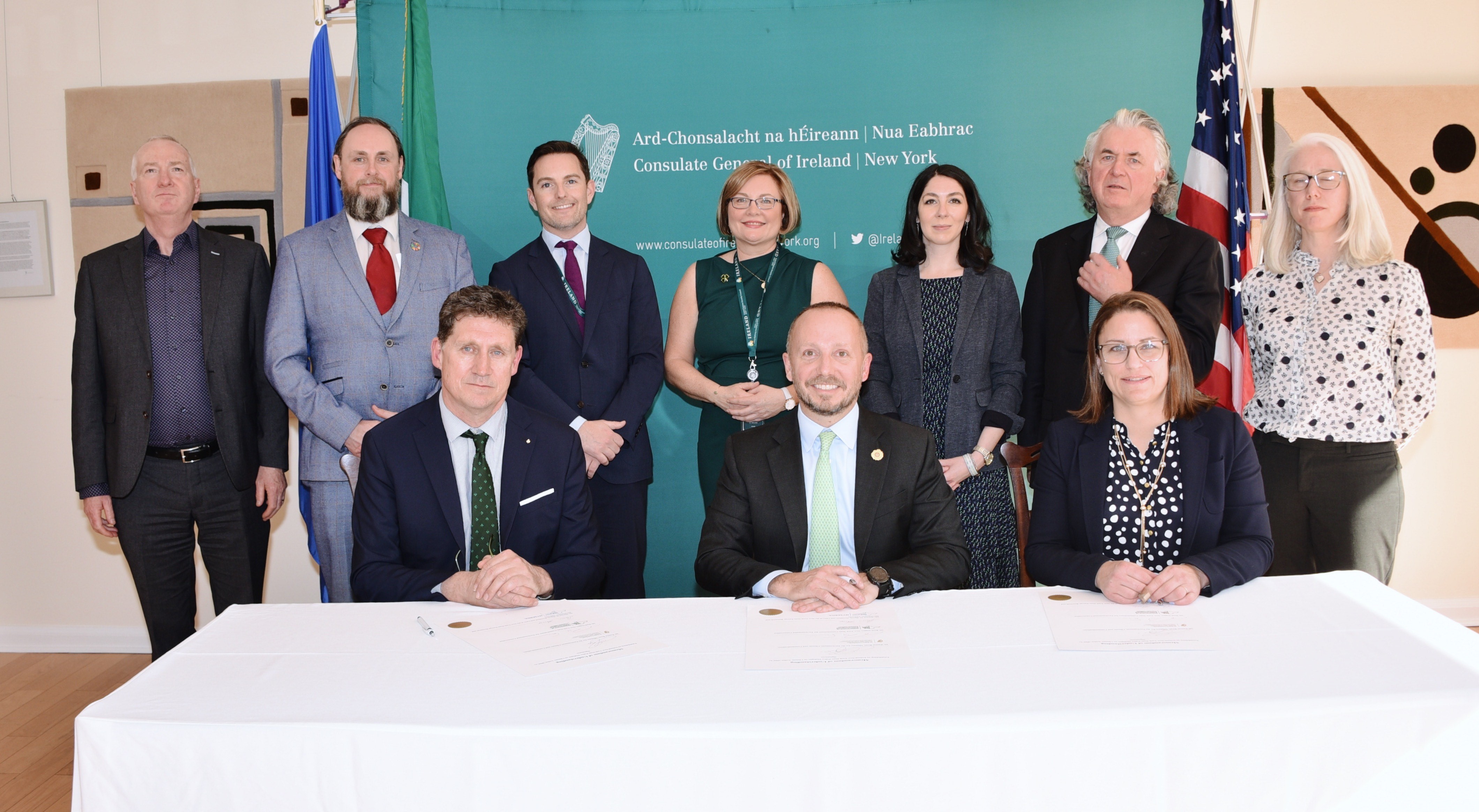 Front then Back (left to right): Minister Eamon Ryan, Basil Seggos, Doreen Harris, Donall Geoghegan, Anthony O'Grady, DCG Andrew Byrne, CG Helena Nolan, Haley Viccaro, Terence O'Rourke, Maureen Leddy
Minister for the Environment, Climate and Communications Eamon Ryan has launched a Policy Dialogue on Climate Action (PDCA) with Basil Seggos, the Commissioner for New York State's Department of Environmental Conservation (NYSDEC), and Doreen Harris, President of New York State's Energy Research and Development Authority (NYSERDA).
Minister Ryan, Commissioner Seggos and President Harris co-signed a Memorandum of Understanding at the Consulate in New York on Wednesday, 16 March, in which they agreed to share their experiences on how to reduce carbon emissions and meet their climate targets under the United Nations Framework Convention on Climate Change (UNFCCC).
During their first meeting under the PDCA, the participants shared their plans to reduce emissions through offshore renewable energy generation, retro-fitting of homes and upgrading electricity grids.
The Policy Dialogue on Climate Action will meet at least twice per year to explore opportunities and appraoches for sharing best practices in addressing climate change.
The announcement was part of Minister Ryan's official St Patrick's Day programme in New York, which entailed more than a dozen engagements with community partners, political counterparts, business groups as well as traditional events, including the St Patrick's Day Parade on 5th Avenue.
ENDS
For inquiries, please contact Aisling.McDonagh@dfa.ie