February 2021 First Friday with Black & Irish
News
23 February 2021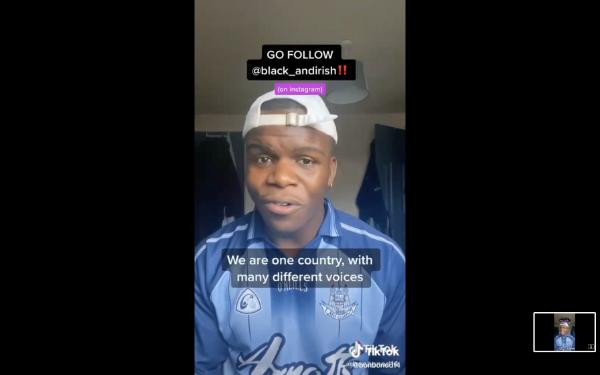 February First Friday with Boni Odoemene
"We are one country with many different voices"
February First Friday with Boni Odoemene
To mark Black history month here in the US, our February First Friday event featured a conversation with one of the co-founders of Black and Irish, Boni Odoemene. ‌‌
He told us about the founding of Black and Irish, born out of a wish to highlight the struggles and successes of Ireland's Black and Mixed Race community. Using Ireland's tradition of storytelling, he described it as a place to hear voices and stories of Irish society that many have not seen or heard before. He spoke also about his time in the US as a Washington Ireland Program participant and how that helped him to see the importance of conversation and of understanding the context in a country.
On a number of occasions, Boni emphasised how change needs to be accompanied by conversation so that everyone is brought along the journey and that together we can move to find a way forward. He characterised the changes in Ireland as opportunities, ways to expand Irishness in a way that we couldn't before. Most importantly, he reminded us that everyone has many aspects to their identity and we can embrace them all.
In a conversation filled with optimism for Ireland's future and its talent, Boni demonstrated how a diverse Ireland and a diverse world is something to be truly excited about.
You can watch back on the full conversation on our Facebook page here:
https://www.facebook.com/2203492793300634/videos/861148798009316
And don't forget to check out @Black_andirish on Instagram and TikTok!