St Brigid's Day Event on Women in Finance
News
18 February 2021
‌On Thursday 11 February, the Consulate hosted a virtual panel discussion in partnership with Enterprise Ireland and 100 Women in Finance. It was the third annual event as part of our Women in Finance series, held under the rubric of the global celebration of women with St Brigid's Day.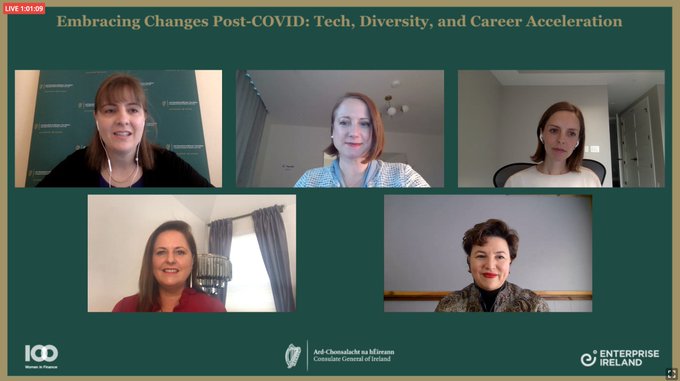 The theme of the discussion was "Embracing Changes post-COVID: Tech, Diversity and Career Acceleration". Deirdre O'Connor, Managing Director at Blackrock, returned as our moderator, having joined us for our previous events in this series. She was joined by a panel of inspiring business leaders: Deniz Johnson of Stratify; Jennifer Brett of LinkedIn; and Angela Billick of Manulife.
Conversation was broad-ranging and filled with tips and advice for the women tuning in on how to navigate one's career, including taking intelligent risks; communicating what you want; building your relationships and knowing the influencers; building skills sets that show you can bring value; and taking a solution-focused mind-set. "You are the one constant in your career."
There was plenty to talk about on the challenges of working through the pandemic and how that experience can be used as a positive for looking to the future. Combined with the opportunity of technology and the value of diversity in companies, there was a lot to take away from the discussion.
We would like to thank our participants for their generosity of time and expertise and to thank Enterprise Ireland and 100 Women in Finance for their support in making the event happen.
We are looking forward to future discussions and to future opportunities to highlight amazing women, excelling in their careers.
All Speakers