American Chamber Report Reveals Strong Rebound in US-Ireland Economic Activity
Press release
15 March 2022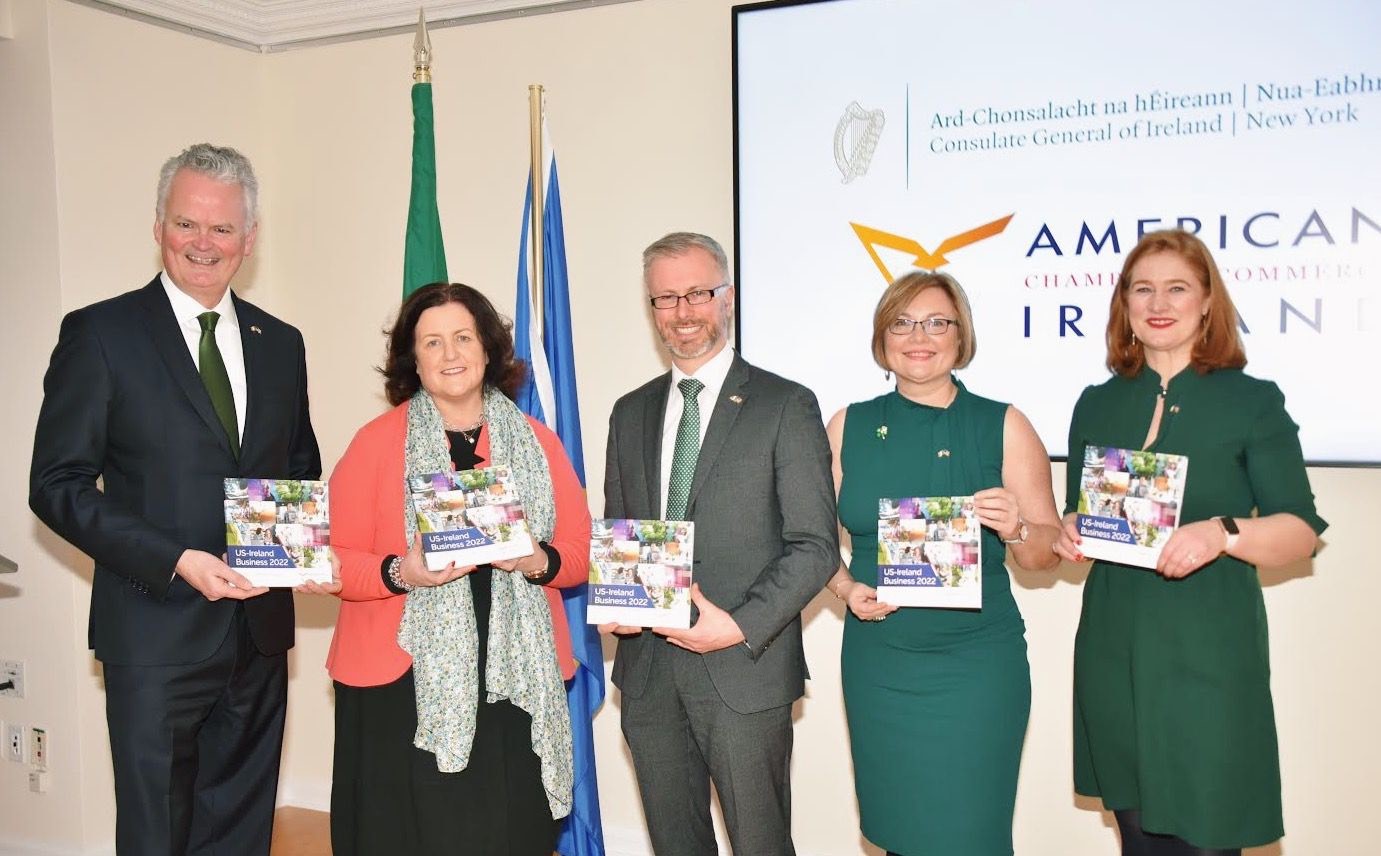 From left to right: AmCham Ireland CEO Mark Redmond, AmCham President Catherine Duffy, Minister Roderic O'Gorman, Consul General Helena Nolan, AmCham Director of Public Affairs Regina O'Connor
Roderic O'Gorman, Minister for Children, Equality, Disability, Integration and Youth, launched the American Chamber of Commerce in Ireland's 2022 Report, at an event hosted by Consul General Helena Nolan at the Irish Consulate.
The Chamber's 2022 Report illustrates the growing two-way trade and investment relationship between Ireland and the United States.
Minister O'Gorman remarked on the unique strength of the Ireland-US relationship:
"US investment into Ireland remains at a high level of $390 billion. While down from before the pandemic, bilateral trade and investment has rebounded much faster than expected over the past year, with US companies attracted by Ireland's youthful and talented population; our strong base of existing multinational companies; and our historic person-to-person and business ties with the US."
Consul General Nolan thanked American Chamber of Commerce Ireland CEO Mark Redmond and Chamber President Catherine Duffy for their stewardship of AmCham, and welcomed all members of the Chamber back to the Consulate.
"It's great to have AmCham back here with us in the Consulate again," said Consul General Nolan, "to help launch your report this evening, and indeed to be able to have everybody here in person at events like this again. After what has been a very challenging two years, it is very special to be able to gather together again in person, in this St Patrick's Season in New York and to look forward to the iconic parade on Thursday.
"I would also like to convey a warm welcome to all of the members of the Chamber and to thank you for the role you play in keeping the economic relationship between Ireland and America so strong and vital."
Ireland—The Next Century highlights the reasons businesses have chosen to locate in Ireland, and focuses on the benefits of the two-way US-Ireland business relationship on both sides of the Atlantic. The Ireland-US business relationship stands at an all-time high, with record investment in both directions that shows no signs of slowing down.
Contributors to the report include An Taoiseach Micheál Martin, Government ministers, opposition TD's, CEO of the US Chamber of Commere—the world's largest business organisation—as well as stakeholders from across the EU and the US, and the perspectives of over 30 multinationals.
You can read the US-Ireland 2022 Business Report here.
ENDS
Photograph by Nuala Purcell
For queries contact: Aisling.McDonagh@dfa.ie