Anne Anderson honoured by Queen's University Chancellor Hillary Clinton at the Irish Consulate
Press release
14 March 2022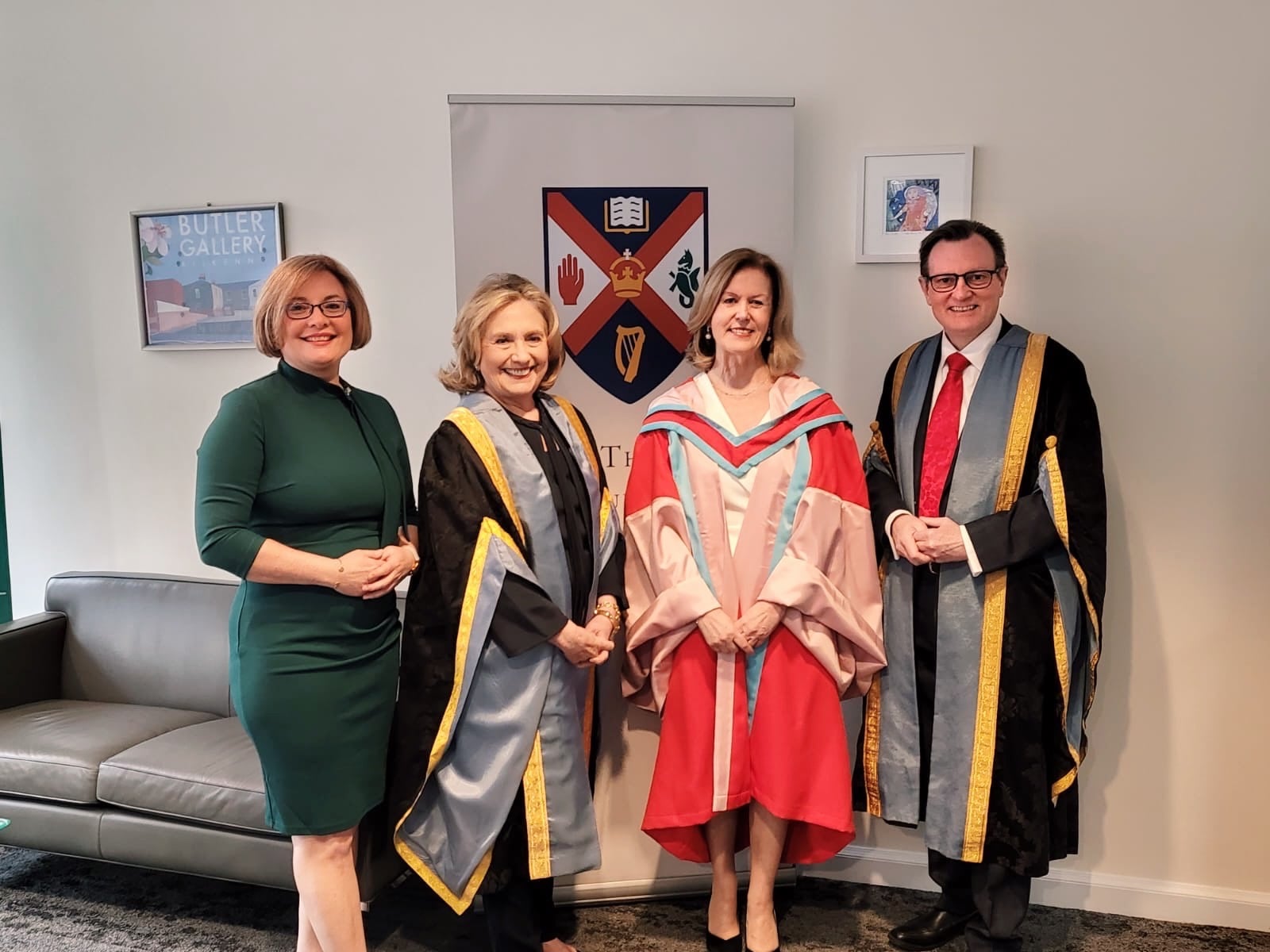 From left to right: Consul General Helena Nolan, Queen's University Belfast Chancellor Hillary Clinton, former Ambassador Anne Anderson, and Queen's University Belfast Vice Chancellor Ian Greer
Consul General Helena Nolan hosted Queen's University Belfast for a conferral ceremony on Thursday [10 March] honouring Ireland's first female Ambassador to the US, Anne Anderson, for distinction in public service.
Ambassador Anderson was awarded an Honorary Degree by Queen's University Chancellor and former Secretary of State Hillary Rodham Clinton at a ceremony before assembled guests, including family, friends and colleagues from across her career.
Anne Anderson joined the Department for Foreign Affairs in 1972 and during her distinguished 45-year career, was one of the most senior women in the Irish foreign service and the first female ambassador to represent her country in five postings.
Queen's University Chancellor, Secretary Clinton said: "As we celebrate International Women's Day and look forward to St. Patrick's Day next week, it feels extremely fitting that we are honouring a trailblazer for Irish feminism."
"Anne Anderson has spent her career breaking glass ceilings in her home country and on the world stage. I'm thrilled that we're welcoming her into the Queen's University family."
Speaking to assembled guests, Consul General Helena Nolan said:
"Anne's example, her honesty about the challenges she has overcome, and her willingness to share her experiences and her advice has been groundbreaking for women in Irish diplomacy and more broadly for women in public life, and we are grateful to her for it, as well as for her important leadership on policy, in each of her key roles."
Anne was appointed Permanent Representative of Ireland to the United Nations in Geneva from 1995 to 2001, during which time she was elected as Chair of the United Nations Commission on Human Rights (the fourth woman to earn the honour, the first being Eleanor Roosevelt). She acted as Permanent Representative of Ireland to the European Union from 2001 to 2005, becoming the first woman from any member state to hold the post.
After holding the position of Ambassador to France from 2004-2009 and Ambassador to the United Nation from 2009-2013, Anne was appointed as the first female Ambassador of Ireland to the US in 2013 until her retirement in 2017. The former Diplomat of the Year currently serves as Chair of the UN Secretary General's Advisory Group on the Peacebuilding Fund.
Queen's University awards honorary degrees to individuals who have achieved high distinction or given significant service in one or more fields of public and professional life who serve as ambassadors for the University and Northern Ireland around the world.