The 4th annual meeting of the Network of Irish Cultural Centres of North America
News
28 January 2021
NORTH AMERICAN PRESENTERS OF IRISH ARTS & CULTURE
MEET CULTURE IRELAND AND IRELAND CONSULAR NETWORK

(New York, Thursday January 28 2021) More than 120 North American-based presenters and programmers of Irish culture met Culture Ireland and the Ireland Consular Network virtually today, for the 4th annual meeting of the Network of Irish Cultural Centres of North America (NICCoNA).
Co-hosted by the Consulate of Ireland in New York and Culture Ireland, NICCoNA is a state-and-province wide association of presenters and programmers of Irish culture based in the USA and Canada. Members including Irish Arts Center and Irish Repertory Theatre in New York, Contemporary Irish Arts Center in Los Angeles and the Milwaukee Irish Fest present a regular annual programme of Irish arts, which have been severely impacted by COVID-19 restrictions.
The meeting focussed on future planning and the ways members could continue to operate and programme including online presentation of Irish artists with Culture Ireland support.
The agenda included an overview by Ireland's Ambassador to the USA, Daniel Mulhall of upcoming events across the US and Canada to celebrate both St Brigid's Day and St. Patrick's Day. Each of the eight US and Canada based Consul Generals (representing Atlanta, Austin, Boston, Chicago, Ottawa, Los Angeles, San Francisco and New York) also attended the meeting to meet and share concerns with their regional centres and programmers.
Participants were introduced to the work of a selection of artists showcasing at the upcoming Folk Alliance International Conference and South by Southwest SXSW as well as a sneak-peek at the upcoming Ireland in Music film due to broadcast on PBS around St. Patrick's Day.
Director of Culture Ireland, Christine Sisk said, " The strong attendance at this gathering is a true indicator of the interest in Irish arts in the US and Canada. Culture Ireland support of online performances will enable Irish artists to reach North American audiences until artists can travel and perform again in person in these fantastic venues."
Consul General of Ireland in New York, Ciarán Madden said, "Of course we are disappointed not to be gathering in person as we usually do this time of year in New York but the great benefit of these times is that we can welcome even more people to the table and it's so encouraging to see so many people and organizations from across the continent."
At the 2020 meeting of NICCoNA it was announced that the Government of Ireland would appoint a New York-based Cultural Officer. Such an appointment was made in November 2020 and the Newly appointed Head of Cultural Affairs in New York, Nik Quaife said: "I am very much looking forward to working with Culture Ireland and the US Embassy Network to create opportunities for Irish artists across the US and Canada."
ENDS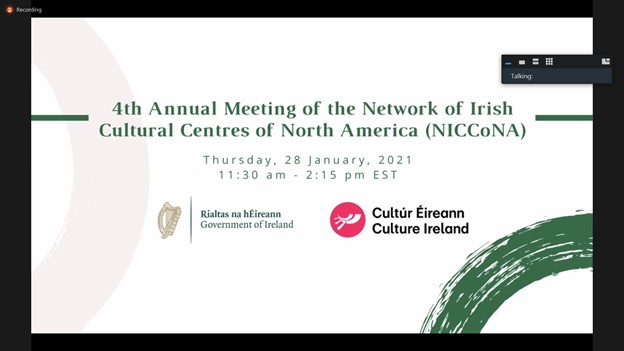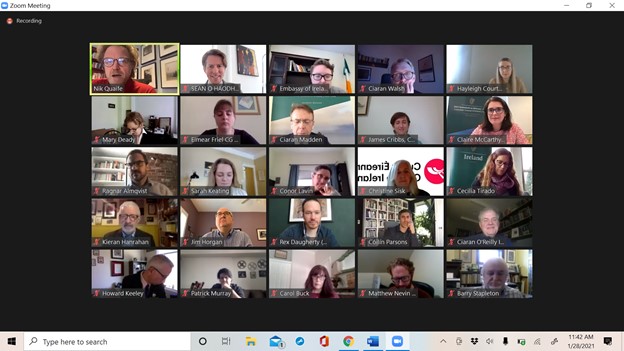 LIST OF PARTICIPATING ORGANIZATIONS
ATLANTA
Phoenix Irish Arts Atlanta
Return to the Green Festival - Greenville
Aris Theatre Group Atlanta
Irish Studies, Georgia Southern Univ, Savannah
College of Charleston
Clemson College Charleston
Celtic Heritage Festival of Savannah
Savannah Irish Festival
Charlotte Irish American Center
Music City Irish Fest Nashville
AUSTIN
Irish Cultural Museum of New Orleans
North Texas Irish Fest
Flynn Center for Irish Studies at the University of St. Thomas Houston
James Joyce Quarterly (University of Tulsa)
Lyon College
Irish Cultural Society of San Antonio
Austin Celtic Festival
Flynn Center for Irish Studies at the University of St. Thomas Houston
Kansas City Irish Fest
The University of New Mexico
Kansas City Irish Center
BOSTON
Boston College
Irish Cultural Centre of New England
Irish American Club of Maine
Maine Irish Heritage Center
Eire Society of Boston
Boston Irish Film Festival
CANADA
Here Come Everybody Players
Toronto Irish Players
Irish Society of Halifax
Toronto Bloomsday
Irish Film Festival Ottawa
St. Brigid's Centre for the Arts
Ireland Park Foundation, Toronto
CHICAGO
Irish American Heritage Center, Chicago
Irish American News, Chicago
Murphy Roche School of Music
Francis O'Neill Arts Week
Shepherd School of Music
Irish Heritage Center of Cincinnati
Hudson Valley Fest
Chicago Irish Film Festival
O'Brien Family International Office
Milwaukee Irish Fest
Iowa Irish Fest
Celtic Junction Arts Center, St. P
Irish Fair of Minnesota
University of Notre Dame, Keough-Naughton Institute for Irish Studies
Chicago Irish Movie Houli
Irish Heritage Center of Cincinnati
CelticMKE
Dublin Irish Fest, Ohio
Irish American Heritage Center, Chicago
Milwaukee Irish Fest
Chicago Bloomsday
University of Wisconsin at Milwaukee, Center for Celtic Studies
Celtic Junction Arts Center, St. P
Gaelic Park, Chicago
Cleveland Irish Cultural Festival
Indy Irish Fest
Celtic Junction Arts Center, St. P
Gaelic League of Detroit
Chicago International Film Festival
Ward School of Music
Irish Theatre of Chicago
LOS ANGELES
Irish Cultural Center and McClelland Library
Irish Screen America
The Great Irish Fair
Contemporary Irish Arts Center
NEW YORK
The Rosenbach, Philadelphia
Irish American Society of Suffolk, Nassau & Queens
Irish American Cultural Institute New Jersey
Irish Cultural Center, Utica
United Irish Cultural Center
Irish American Writers & Artists
Irish Arts Center, NYC
Irish American Cultural Institute
New York Irish Center
Catskill Irish Week
Irish Repertory Theatre
Catskills Irish Arts Week
Pittsburgh Irish Festival
Center for Irish Studies, Villanova University
Great Hunger Museum, Quinnipiac University
Irish Screen America
Origin Theatre Company
Irish Visions LLC
Irish Repertory Theatre
Inis Nua Theatre
Origin Theatre Company
Greater Danbury Irish Cultural Center
Irish American Heritage Museum, Albany
American Conference for Irish Studies/LeMoyne C
Irish Arts Center
SAN FRANCISCO
Irish Culture Bay Area, San Francisco
United Irish Cultural Center
United Irish Cultural Center
DFA - San Francisco
Irish Studies at UC Berkeley
Portland Monthly
Eugene O'Neill Foundation, Tao House
Irish Heritage Club
United Irish Cultural Center
Method Gallery
Corrib Theatre
WASHINGTON DC
Solas Nua
Georgetown University