Panel Discussion for Women in Finance Hosted at the Consulate to Celebrate St Brigid's Day
News
11 February 2019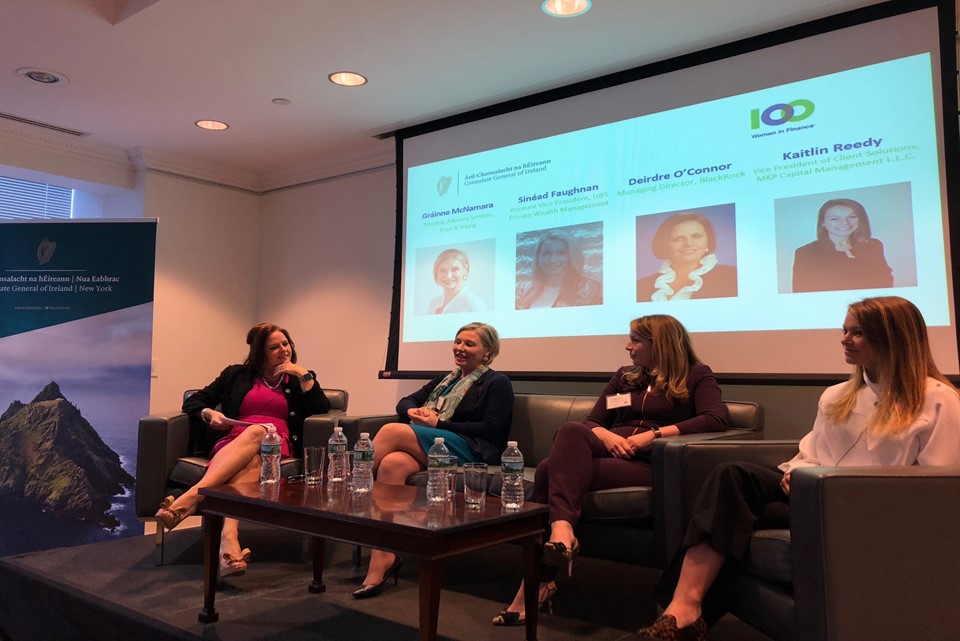 The Consulate hosted a panel discussion on Wednesday, 6 February 2019 on sponsorship and mentorship for women in the financial sector in collaboration with 100 Women in Finance, a global network of professionals in the finance and investment industries which works to empower women at each stage of their careers.
The panel was comprised of Irish and Irish-American women at different points in their careers in the financial sector. Members of the panel included Gráinne McNamara (Principal of Advisory Services, EY), Sinéad Faughnan (Account Vice President, UBS Private Wealth Management), and Kaitlin Reedy (Vice President of Client Solutions, MKP Capital Management LLC) with Deirdre O'Connor (Managing Director, BlackRock) as the moderator. The panellists generously drew on their own experiences in the workplace to provide guidance and career tips to a standing-room only audience. Key topics that were discussed between the panellists included the difference between mentoring and sponsoring, how to form mentorship and sponsorship relationships organically, the benefits of having a mentor, and advice to the next generation on how to make the most out of being sponsored.
Thank you to all the panellists for sharing their insights into mentoring and sponsoring and for such an interesting and lively discussion.
The event was part of the Department of Foreign Affairs and Trade's series of events to mark St Brigid's Day or Lá Fhéile Bríde, which falls on 1 February. In February 2019, each of Ireland's US missions celebrated St Brigid's Day by hosting an event to highlight the creativity and contribution of Irish and Irish-American women. In New York, the Consulate recognized the achievements of women in financial services.